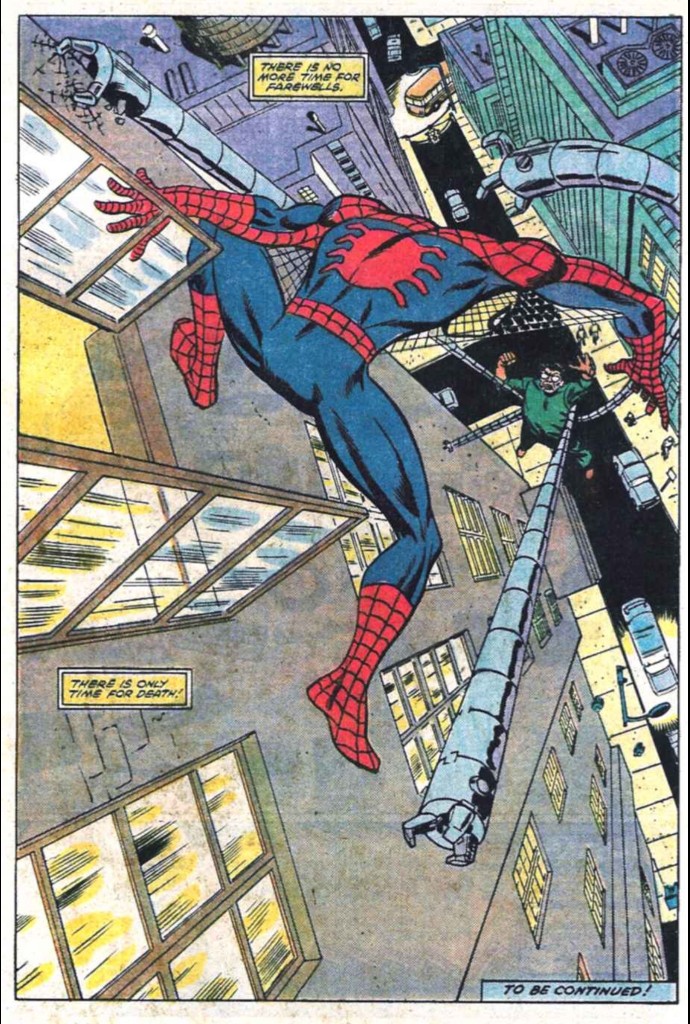 As I hope most of you are aware, the name of this blog is Chasing Amazing. And while that might sound like a pun on the title of a Kevin Smith movie, the adjective "amazing" is quite intentional. The mission of the site is to follow "one man's quest to collect every issue of Amazing Spider-Man." I'm well aware that there are many other comic book titles that star Spider-Man, but since I was a teenager, I decided what limited resources I had to buy and read comic books (especially older, more expensive ones) would be dedicated to Amazing Spider-Man, because it's the flagship Spidey title that has/had decades of history behind it.
But my laser focus on ASM has had its disadvantages – mainly the formation of what I call my Spider-Man "blind spots." While I think it's a universally accepted truth that the majority of the all-time best Spider-Man arcs occurred within the pages of ASM, there are dozens of highly-regarded stories that appeared in the Web Slinger's "B" titles. Also, the "B" titles have had a host of great writers and artists over the years (Roger Stern, JM DeMatteis, Peter David, Mark Millar, Frank Miller, Sal Buscema etc.) that are a draws all by themselves.
In an act of redemption, here are my blog posts about some well-known arcs and issues that have occurred outside the confines of the ASM universe. Consider this my attempt to remove my "blind spots" and broaden my horizons.
Marvel Knights: Spider-Man #1-12 (aka the Mark Millar run)
The Owl/Octopus Wars (Spectacular Spider-Man #73-79)
New Avengers: Breakout (#1-5)
Spectacular Spider-Man #67
Spider-Man vs. Wolverine
Shadowland #1-5
Marvel Two-in-One Annual #2
Web of Spider-Man #29-30 (Ned Leeds/Rose origin)
The Hobgoblin Lives #1-3
Spectacular Spider-Man #43, #48 (Roderick Kingsley's first appearances)
Avengers #236-237 (Spider-Man tries to join the Avengers)
Marvel Team-Up #69-70 (Havok/Thor team-up)
House of M
Thor #8 (v2) and Peter Parker: Spider-Man #2 (v2)
Spectacular Spider-Man #80 ("I Cover the Waterfront")
Untold Tales of Spider-Man #21 (Spider-Man/Uncanny X-Men Team-Up)
The Lobo Brothers Gang War/Trial of Robbie Robertson (Spectacular Spider-Man/Web of Spider-Man crossover)
Spider-Man Tangled Web #21 (Holiday Issue)
Spectacular Spider-Man #1-5 (vol. 2) ("The Hunger")
Thunderbolts #120-121 (Warren Ellis/Mike Deodato Jr. run)
Goblins at the Gate (Spectacular Spider-Man #259-261)
Spectacular Spider-Man Magazine #2 (Spider-Man vs. Green Goblin)
Spider-Man Blue
The Night of the Green Goblin (Peter Parker Spider-Man #75)
A Death in the Family (Peter Parker Spider-Man (vol. 2) #44-47
To Have and to Hold (Sensational Spider-Man Annual #1)
Marvels
Peter Parker Spider-Man #33
Captain America #137-138 (first team-up with Falcon and Captain America)
Daredevil #16-17 and Spectacular Spider-Man #27-28
The Death of Jean DeWolff (Spectular Spider-Man #107-110)
Marvel Team-Up #1
Spider-Man: Chapter One
Untold Tales of Spider-Man #1
Web of Spider-Man #1
Spider-Man #1
The Return of the Sin-Eater (Spectacular Spider-Man #134-136)
Spider-Man/Black Cat Romance (Spectacular Spider-Man #80-100)
Spider-Man/Black Cat: The Evil That Men Do
Marvel Team-Up #86 (Spider-Man and Guardians of the Galaxy)
Spider-Man Team-Up #5 (Spider-Man and Howard the Duck)
What If #1: What If Spider-Man Had Joined the Fantastic Four
Spider-Man Noir
Spider-Girl #0-5
Spider-Man 2099 Meets Spider-Man
What If? Spider-Man vs. Wolverine
Clone Saga Callback: "The Exile Returns"
Marvel Team-Up #82-85
Ultimate Spider-Man #13
Spider-Woman (by Brian Michael Bendis and Alex Maleev)
"Web of Life' (Clone Saga)
Spider-Man: Reign