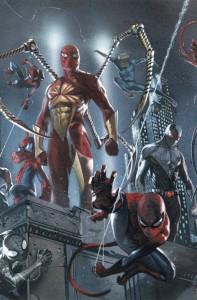 After a bit of a short hiatus (real life can be such a pain sometimes), the greatest Spider-Man podcast in the world, Amazing Spider-Talk is back. In episode 10, Dan "the Man" Gvozden and I chat about Amazing Spider-Man #10 ("Spider-Verse" part two), Amazing Spider-Man #31 (vol. 2), and some other assorted Spider-Man news and views. Download it by going to superiorspidertalk.com
Here's the chapter listing this time around:
0:00 Opening
2:26 Featured Review: Amazing Spider-Man (vol. 3) #10
31:16 Comments and Emails
47:57 Friendly Neighborhood Spider-Talk Member's Club
51:35 Classic Comic: Amazing Spider-Man (vol. 2) #31
1:08:51 Goodbyes and Contact Info.
As always, don't forget to subscribe to Amazing Spider-Talk through iTunes and on Stitcher. And while you're there, leave us a rating and a review, which we will read on air. If you want to e-mail us a question, send it to amazingspidertalk at gmail dot com.
Lastly, don't forget to support our show by joining the Friendly Neighborhood Spider-Talk Members Club. Your donations help keep this podcast alive!