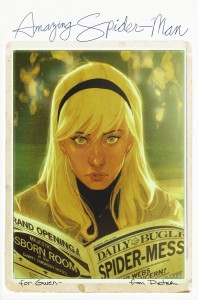 Welp… we arrived at the end of "Spider-Verse" this week, so you can guaran-damn-tee that Dan Gvozden and I break down everything about (for better or for worse). Link on over to superiorspidertalk.com to download this giant-sized episode of Amazing Spider-Talk, where Dan and I talk Amazing Spider-Man #14, Amazing Spider-Man (vol. 2) #35, Spider-Man movie news, Spider-Man: Reign, and a hose of other good things. Also, be sure to listen in to our contest to pick the new Amazing Spider-Talk theme song!
Here are the chapters:
0:00 Opening
2:42 Featured Review: Amazing Spider-Man #14
48:36 Comments and Emails
1:02:07 Spider-News
1:27:19 Feedback Spider-Man: Reign
1:38:47 Classic Comic: Amazing Spider-Man (vol. 2) #35
2:01: 05 Contact Info and Goodbyes
Articles mentioned in the show:
As always, don't forget to subscribe to Amazing Spider-Talk through iTunes and on Stitcher. And while you're there, leave us a rating and a review, which we will read on air. If you want to e-mail us a question, send it to amazingspidertalk at gmail dot com. Also, please consider helping to keep our show on the air by donating to the Friendly Neighborhood Spider-Talk Members Club.