1. Amazing Spider-Man #300 (script by David Michelinie, art by Todd McFarlane)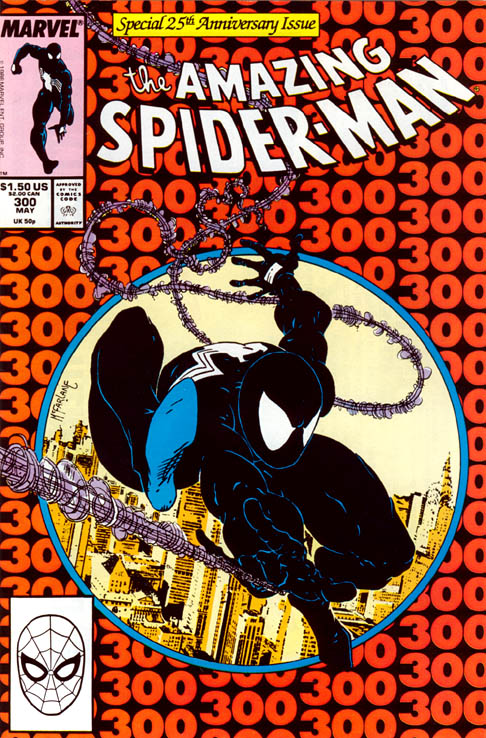 I told you at the very beginning that this top 10 list was a personal thing. I'm sure there are a lot of you out there who have fond memories of Amazing Spider-Man #300. But to declare it my favorite ASM comic book of all time? Clearly, I have lost my mind.
No, my mind is exactly where I left it, and based on some of the tweets I've been getting the past couple of days, it must be pretty clear to at least some of you who have read through my two years worth of blog posts that ASM #300 is a very important issue to me as a Spider-Man fan and a collector. In fact, when I first came up with an idea to do a top 10 list to mark the end of ASM a few weeks ago, I knew from the onset that ASM #300 would be my No. 1 while the other nine entries took some real critical thought and tough decisions.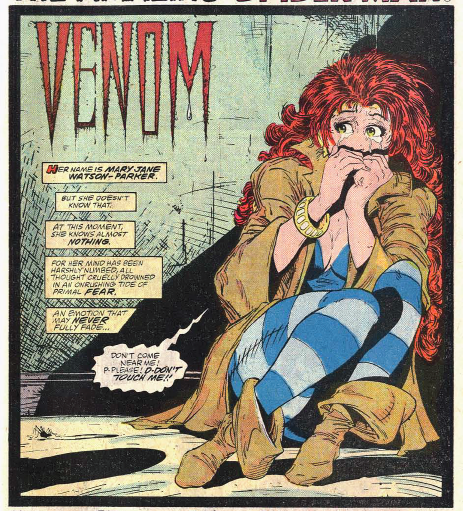 I know, in my heart of hearts, that there are a number of better written and illustrated Spider-Man comics than ASM #300 – many of which were already featured on my list or left off my list altogether. But no amount of arguing or logic will get me to back down from my position. Simply put, ASM #300 is to me what a child growing up in the 70s likely thought about the very first Star Wars movie. It's release in 1988 changed my perceptions of comic books and years later, when I was in high school, the comic's increased monetary value changed my perception of comic books as a hobby. It's the Spider-Man comic book I measure every other Spider-Man comic book against – I can't even flip through the pages of one of ASM's centennial issues without recalling my excitement as an 7-year-old when I first opened the pages of this "special" double-sized comic book (at a whopping $1.50 too!).
But is this some kind of fanboy crush or is my adoration even remotely merited? The comic, of course, introduced, arguably the most important villain Marvel introduced – period – over the last 25 years in Venom. Venom would go on to be Spider-Man's primary antagonist throughout the most successful years Marvel's history in terms of sales and revenues. As a villain he was the total package – sadistic and demented, yet with a definitive moral code to harm no "innocents" unless they impeded his path to Spider-Man. He was a stronger and more ruthless version of Spider-Man, who, with the power and knowledge of the alien symbiote, seemed to know Peter Parker better than anyone, and was able to use this familiarity against our beloved hero. And oh, by the way, he didn't set off Spider-Man's Spidey Sense. David Michelinie sets this all up so well, that there's a part of me that still wonders all these years later how in the world Spider-Man survived this harrowing encounter with Venom.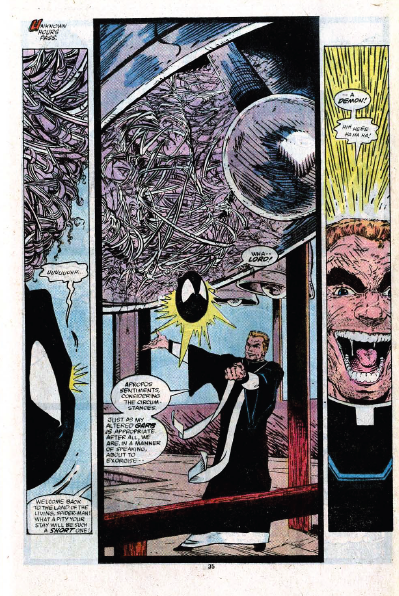 Venom, would of course, go on to become a marketing juggernaut in his own right, spurring spin-off series and symbiote "spawn" in the form of Carnage, Toxin, etc. The current Venom series, starring Flash Thompson, is part of my monthly pull list, despite the fact that the character is so dramatically different from what was introduced in ASM #300. It's just that my connection to the character remains so strong and I'm not even among the most devoted fans of the symbiote universe.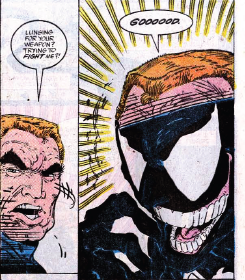 However, ASM #300 is about more than just Venom for me. The issue is both an ending and a beginning of a new era. Spider-Man would officially tuck away the black suit that first debuted nearly 50 issues earlier until Marvel needed to bring it back for a short run in the mid-2000s to coincide with the Spider-Man 3 movie. Additionally, after being buried alive by Kraven, stalked by Doctor Octopus, and then confronted by Venom, the end of ASM #300 seems to formally initiate the married stage of Peter Parker's life – a stage Peter would stay in (with an occasional blip) for nearly 250 issues of the comic before a new status quo prevailed. And of course the final panel of ASM #300, with Peter back in his traditional red and blues – a true demonstration on how all good stories tend to come full circle – remains one of my favorite panels in the history of the ASM series.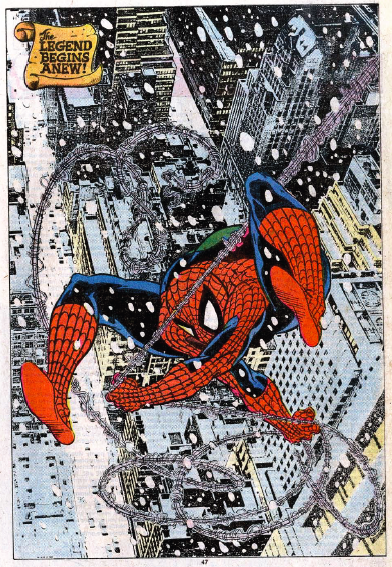 I've gone on all this time and didn't even mention the other element that helps raise this comic book to mythical status in my eyes. While Todd McFarlane had joined ASM as its main artist two issues earlier, ASM #300 marks the eventual superstar's true coming out party. Every page just bleeds McFarlane's quirky and unique style: big muscles and exaggerated features. Was this guy actually intentionally trying to turn MJ into a sex pot? Who knew Peter was so buff? It's an artistic style that would (for better or worse) define an entire generation of comic books. The first time I ever laid eyes on McFarlane's work, I didn't realize that a comic book could look like that.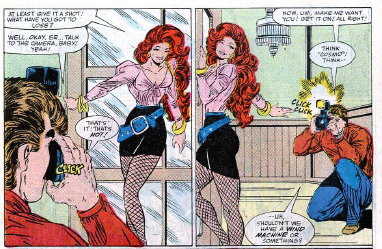 All of these factors contributed to ASM #300's ascent as a desired collectible. While I'll always credit ASM #50 for inspiring me to chase after all of those hard-to-find, key Silver Age issues of ASM, ASM #300 was the first comic book I could recall in my lifetime that was a true collector's item. I constantly kicked myself over the fact that when this issue first came out, I had read it so many times that I probably rendered it into a pile of dead tree pulp, so I didn't even own my original copy. I had to actually go out to a comic book show in the middle of the 1990s, track down a copy, and then haggle with a seller to make sure he wasn't trying to rip off some other teenaged McFarlane fanboy who wanted the guy from Spawn's most famous work at Marvel. After finally securing my (second) copy of ASM #300, I could have settled down there and called it a day with the collection. And in many ways I did. Only six months or so after picking up my copy, it would be nearly half a decade before I purchased another Spider-Man comic book. I was in the latter stages of high school and early parts of college. Money was tight and climbing the social ladder and making new friends was pivotal. I didn't have time to hit comic book shops once week and to stake out worthwhile shows at hotels and bingo halls once a month.  And I already had my copy of ASM #300, so it didn't matter.
As years have gone by, I've realized more and more how deeply personal my collection is; how every copy of ASM I own has taken on a life of its own. I connect these silly little anecdotes in my life that somehow relate to the story or the circumstances behind my acquisition of the comic. But ASM #300 is my original story: the time I bought a special edition comic book that would turn me on to the medium for the rest of my life. The time I dedicated every penny I could save to find another copy of this comic book because I likely destroyed the first copy I had bought. The time I was first truly scared for the well-being of Spider-Man with this new villain in town. The time I realized that a lot of people valued comic books the way they did paintings and sculptures – by identifying them by just the last name of the artist.
Amazing Spider-Man #300 is my favorite issue in the 700 edition series of Amazing Spider-Man and I'm not afraid to let anyone else hear it. I'll shout it from the hilltops. Consider this post my official love letter to the comic. And let that love remain requited.