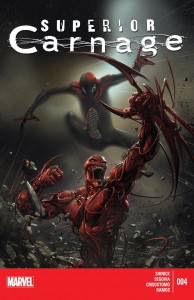 The penultimate issue of the Superior Carnage mini-series gives readers what might end up being the Superior Spider-Man's most engaging confrontation since this new status quo began in January – Spider Ock vs. the Wizard.
(And I'll take "sentences I never thought I would write," for $1,000, Alex).
In my post about Superior Carnage #2 two months ago, I said I was surprised to see classic Silver Age villains like the Wizard and Klaw stealing the focus away from the titular character. But I also maintained that taking the spotlight off a traditionally shallowly written character like Carnage was not a bad thing. Still, when Carnage donned a Punisher-esque trench coat and assault weapon the following issue, I readied myself for the imminent and inevitable blood and gore fest that has been a trademark for Carnage going back to the "Maximum Carnage" days.
Instead, Superior Carnage #4 shows a writer in Kevin Shinick who refuses to compromise the story he's been steadily building since the mini's first issue. And I cannot applaud Shinick enough for sticking things through and giving readers, what I believe to be is a more engrossing and riveting arc. The story of Carnage: symbiote-possessed serial killer run amok, has been told an exhausting number of times since I've been a comic book reader and I was never all that thrilled about reading it again, with the latest variable being notorious egomaniac Otto Octavius is playing the part of Spider-Man rather than the less ethically compromised Peter Parker. We more or less experienced that storyline "twist" last year when Kaine and Agent Venom fought Carnage in "Minimum Carnage," and Kaine decided the best way to deal with the Cletus Kasady and the symbiote was to lobotomize him.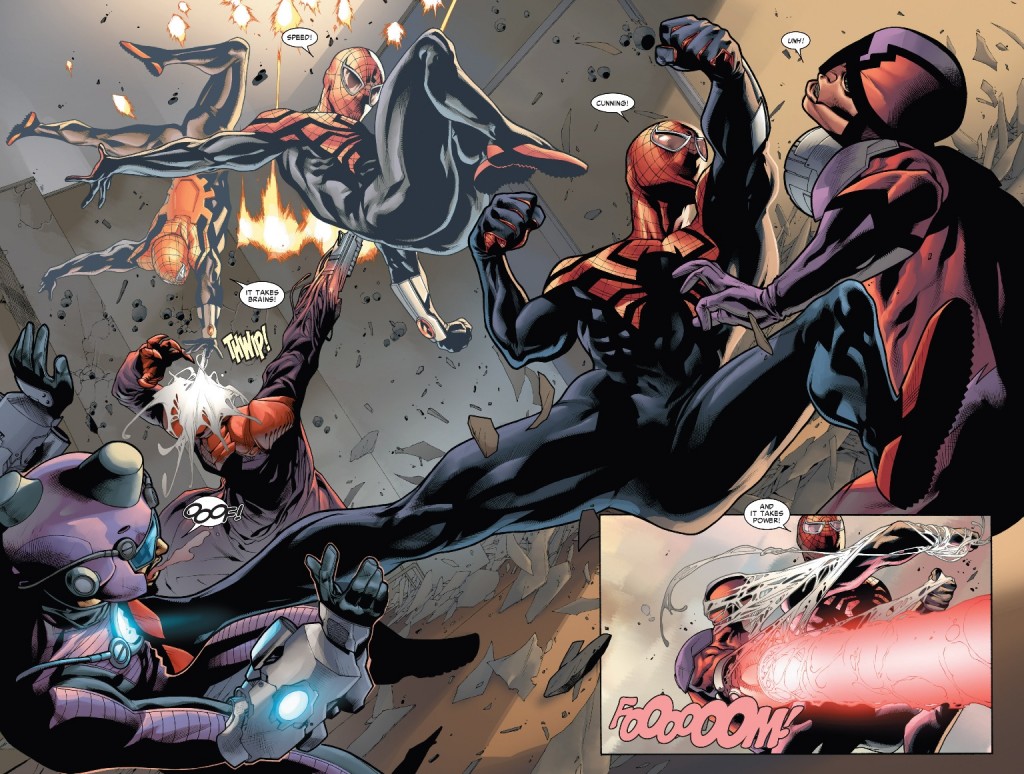 But a story we haven't gotten since the Superior-era began was Otto Octavius – cheater of death and Parker body-snatcher –facing off against an intellectual equal in Bentley Wittman, aka the Wizard, who is also not long for this world and is desperate to stay alive and asserts his dominance through any means necessary. The reason why I think this is the more worthwhile story is because it shows us a side of Spider Ock that we haven't seen since the "Troubled Mind" arc – conflicted and uncertain – and also presents a uniquely sympathetic lead villain in a franchise (Carnage books, not Spider-Man) that has traditionally been devoid of one.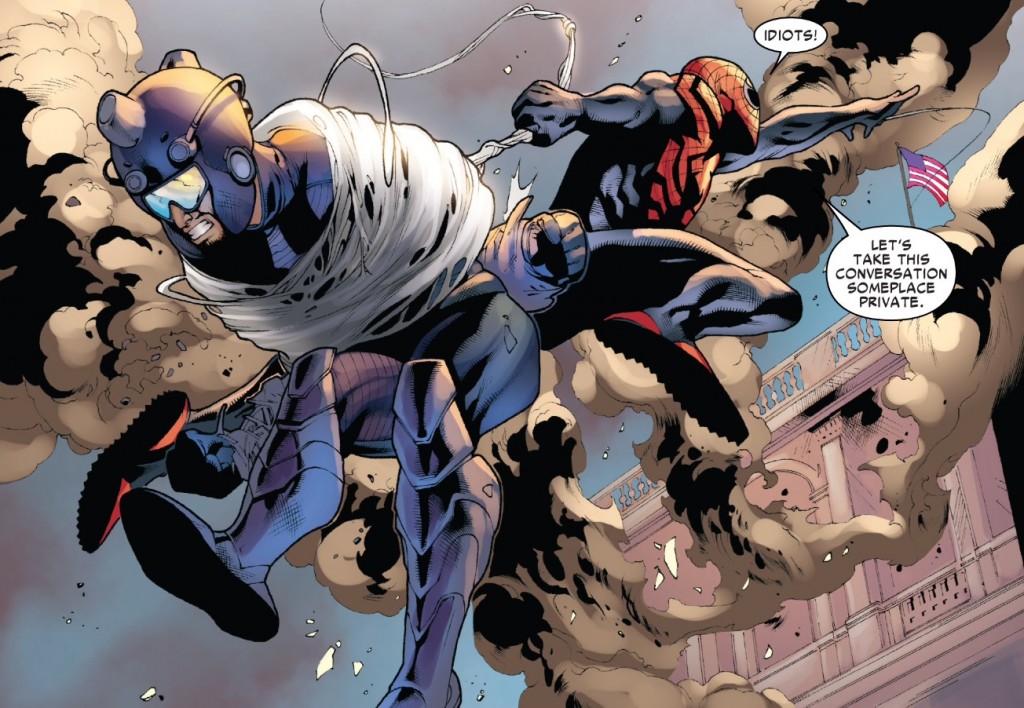 The interaction between Otto and Wizard in Superior Carnage #4 is everything I want it to be and then some. There's Spider Ock, bluffing his way with Bentley in an attempt to get him to call off his sociopathic dog in Carnage and then the huge reveal of Wizard instantly recognizing his old evil ally in Otto after reading his mind.
Spider Ock's reaction to Wizard's discovery is fantastic – especially after the ego bruising this character has received in his last few appearances in Superior Spider-Man and Superior Spider-Man Team-Up. Watching Spider Ock drop Bentley like a sack of potatoes really conveys Otto's shock and despair in that moment and further advances the larger Spider-Man universe plot about how his grip on superiority is loosening by the minute. I'm certain that Spider Ock will emerge victorious when this series ends next month, but it won't be an inconsequential final battle, especially now that the symbiote has taken over a nearly-dead Bentley. If Otto surviving is a given, then the set-up for the final issue indicates that he either is going to kill his once-respected colleague, or the Wizard is going to die from the shock/trauma of being possessed by the symbiote. Either way, it doesn't stand to be a happy ending for Bentley or Spider Ock.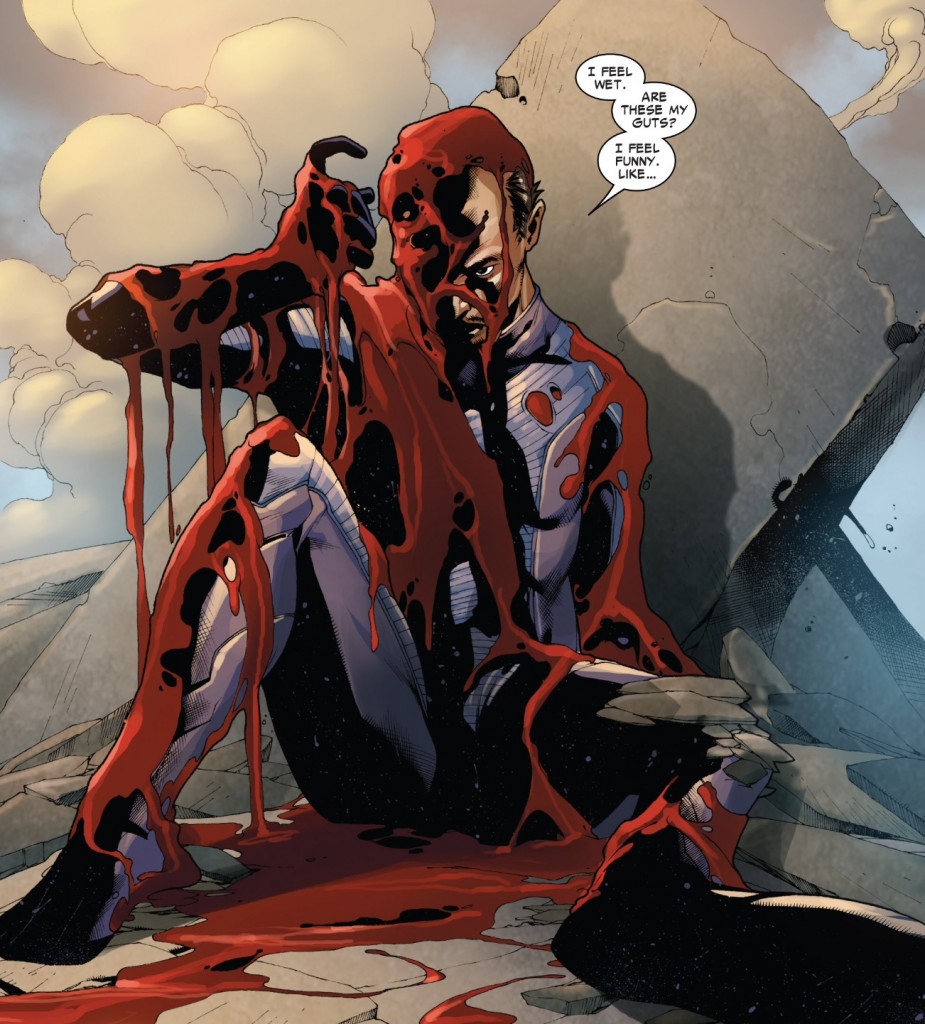 Compare the stakes involved in Superior Carnage with the "Arms of the Octopus" storyline that finishes up this week, and I think you'll understand why I've been generally underwhelmed with the latter. If I'm going to invest time and money into a comic book series, I want to feel like the stories matter. In a world with so many entertainment options (not to many so many options I can access instantaneously) I want something much more substantial for my $15-20 than the breezy campiness of "Arms."
And just to prove that Shinick isn't completely ignoring Carnage's base audience – Superior Carnage #4 does give the titular character his due – whether it's scenes of Carnage beheading of Spider Ock's henchman or the symbiote showcasing his  collection of tongues underneath his trench coat, there's still a blood and guts, slasher-film vibe to the comic, without it undercutting the Wizard/Otto dynamic. Additionally, Stephen Segovia's artwork remains a revelation and I hope Marvel lets him illustrate some more Spider-Man stories in the future, especially if they feature the symbiotes.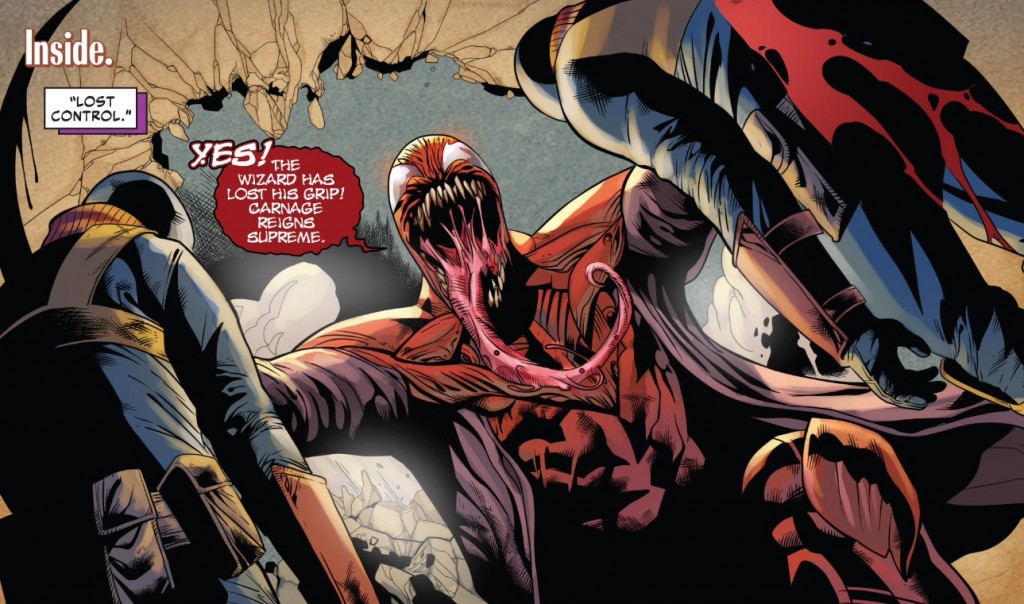 Headed in the Superior Carnage's final issue, I can safely say this is the surprise hit for me of 2013. It was unquestionably my favorite Spider-book from last week's batch. A strongly written/illustrated mini-series also demonstrates that in certain instances, less can be more. An ongoing Carnage series that also features Wizard and Klaw would probably grow tired really quickly, but as a five-issue diversion with a team as dynamic as Shinick and Segovia, Superior Carnage is way more fun than I was expecting it to be.
All images from Superior Carnage #4: Kevin Shinick, Stephen Segovia, Dan Mexia, Dennis Crisostomo, Jay David Ramos, Vero Gandini & Rachelle Rosenberg