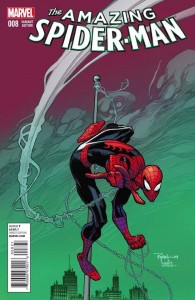 Amazing Spider-Talk is back with our eight episode focusing on Amazing Spider-Man #8 and the first appearance of Spider-Girl! Please be sure to download the episode on the fantastic superiorspidertalk.com.
As always, don't forget to subscribe to Amazing Spider-Talk through iTunes and on Stitcher. And while you're there, leave us a rating and a review, which we will read on air. If you want to e-mail us a question, send it to amazingspidertalk at gmail dot com.
Lastly, don't forget to support our show by joining the Friendly Neighborhood Spider-Talk Members Club. Your donations help keep this podcast alive!
Related Articles:
Mark's Review
Dan's Review
Across the Spider-Verse: Spider-Girl #0-5