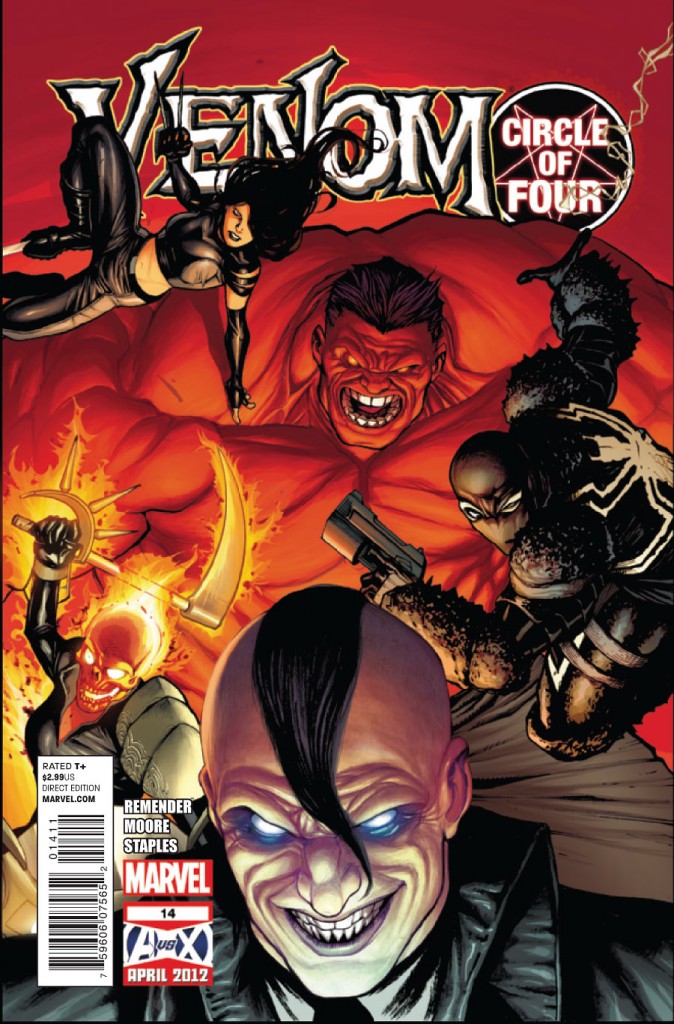 What was one of the biggest criticisms about the Spider-Man 3 movie after it came out – okay, okay, there were a LOT of issues with that movie when it first came out (Emo Peter Parker? A disco dance sequence? Topher Grace?). However, probably the kindest and most straightforward complaint I had about that movie was that it was overstuffed. Whereas the first two movies tried to tell a human story about Peter Parker and Mary Jane while introducing one primary antagonist in each (the Green Goblin and Doctor Octopus respectively), in the trilogy's third installment you had Harry Osborn taking up the mantle of the Goblin, plus new villains in Sandman and Venom leading to a rushed, underdeveloped feel to the entire movie (a Venom/symbiote story and/or Sandman as the key part of the origin story – regardless of how unfaithful to the comic books – were dense enough to be their own movies without the extra Osborn/Parker showdown).
I bring this up, because it's a common mistake made in the entertainment industry. People want to think bigger is better and considering the money a number of Michael Bay films have made over the years, I guess there's some truth to it. But perhaps I'm just a little bit more nuanced than your average consumer. Spider Island had a lot of scope to it, but worked because Marvel did a masterful job of keeping separate stories like Cloak and Dagger and Spider-Girl confined to their own series, while keeping Spidey's story moving aggressively in ASM.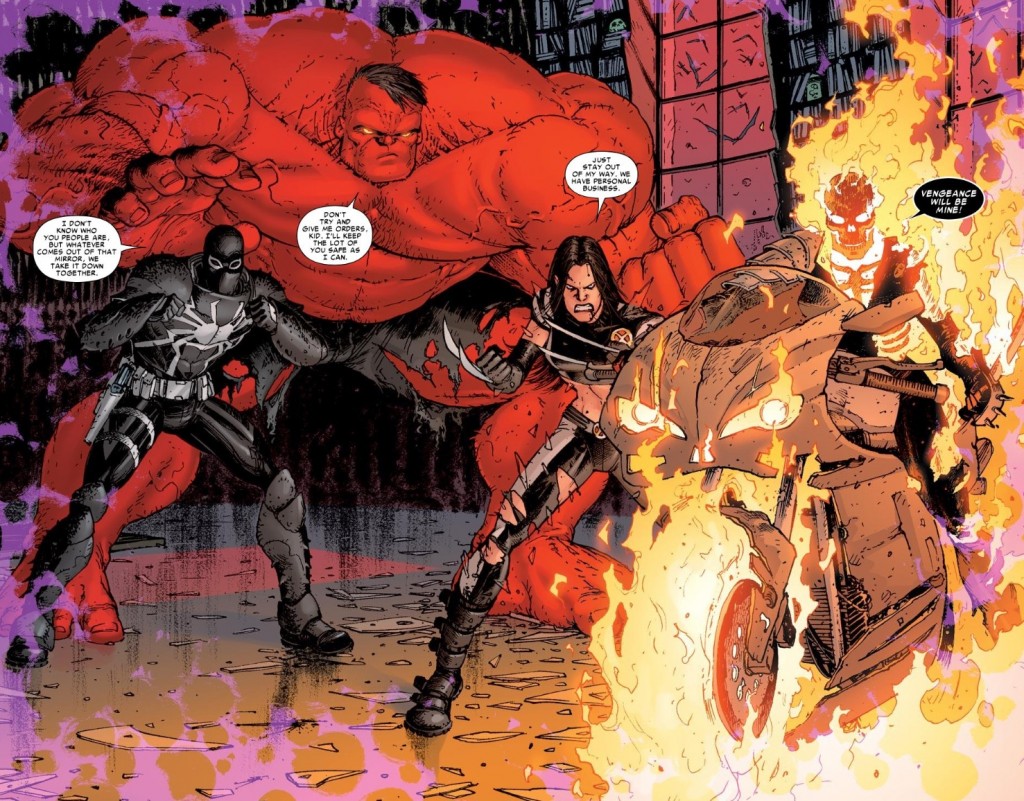 The Circle of Four storyline, which recently completed in the pages of Venom, regrettably compares more to Spider-Man 3 than Spider Island, at least according to my humble opinion. There was definitely some potential there, but stuffing a "Venom goes to Hell, and oh, here's Red Hulk, Ghost Rider and X-23 to boot" was a little too much like going to the China Buffet and seeing 12 trays of fried rice. Sure, some of the rice dishes have pork, while others have shrimp, but presented together in one series, they're indistinguishable from each other, and now I have a bellyache from all the carbs I just ate.
What was unique about the set-up of this series was the fact that Marvel turned its new "point one" format on its ear by debuting the first part of Circle of Four in Venom #13 and then continuing it in 13.1, 13.2, 13.3 and 13.4 before ending it in Venom #14. It was a clever way of getting some extra issues into the continuity without annoying fans by releasing it as some kind of separate crossover. The problem with this approach is when you follow the timelines of four significant characters like Venom, Rulk, X-23 and Ghost Rider in one storyline, the creative team still has to spread things scaloppini-style thin.
The other problem – at least MY problem with the series, is that I honestly don't care about all of Circle of Four's guest stars. I started reading Venom because I was interested in what Marvel was doing with Flash Thompson as a borderline superhero/sociopath. And I've been pleased with the results. Because of all of the concurrent storylines in Circle of Four, I felt like the title got away from the mojo it had earned when it was just following Flash's battles with Jack O'Lantern, Crime Master and his inner demons. In fact, the most enjoyable part of Circle of Four for me was the section in either .3 or .4 (this is how indistinguishable they are from each other), where Flash is faced with his "paradise" (to really drive home the contrast of Hell) and he sees himself joining the Avengers and replacing the retiring Spider-Man. Of course, for old-school ASM fans, this a call back to Flash's role as head of the Spider-Man fan club, and the numerous occasions he's tried to become Spidey for the day (most notably against Doctor Doom in ASM #5). I guess I'm just a sucker for a character being true to his roots nearly 50 years after he was first introduced.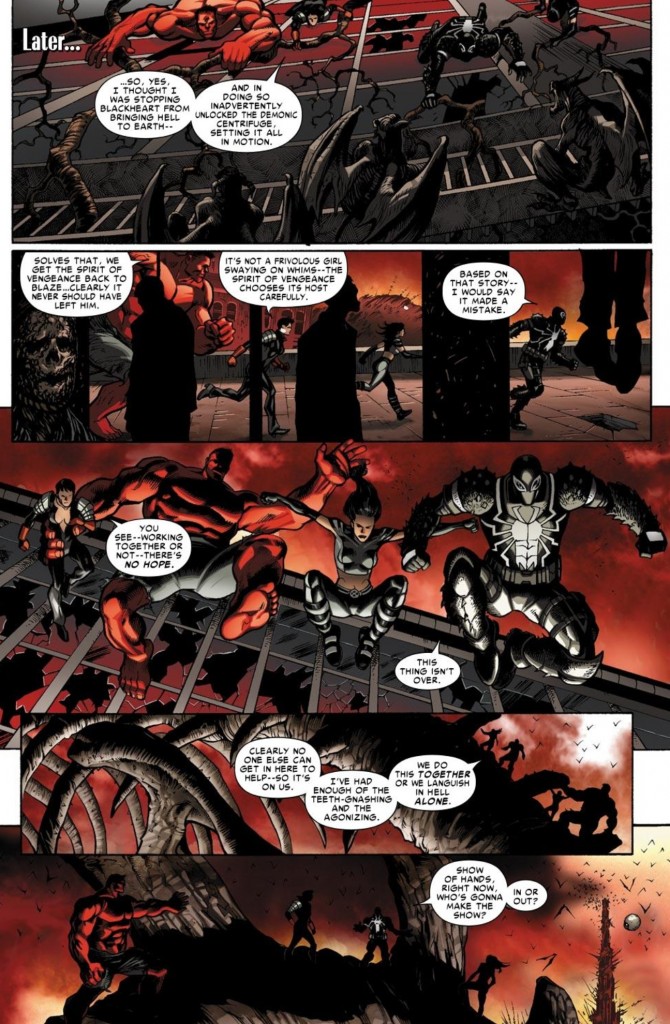 What speaks volumes about my overall Marvel/comic book fandom is that until Circle of Four, I wasn't even aware of who X-23 was, or that Ghost Rider is currently a woman.  So they felt really out of place to me in this storyline. I at least could understand why Red Hulk was in this thing since his involvement triggers Flash's initiation into the Secret Avengers, which appears to be the next major place the Venom story is taking us. But it's a dangerous thing to assume that just because someone reads comic books, they're going to become vested in all of your characters. I'm no closer to buying a Ghost Rider book now than I was before Circle of Four started.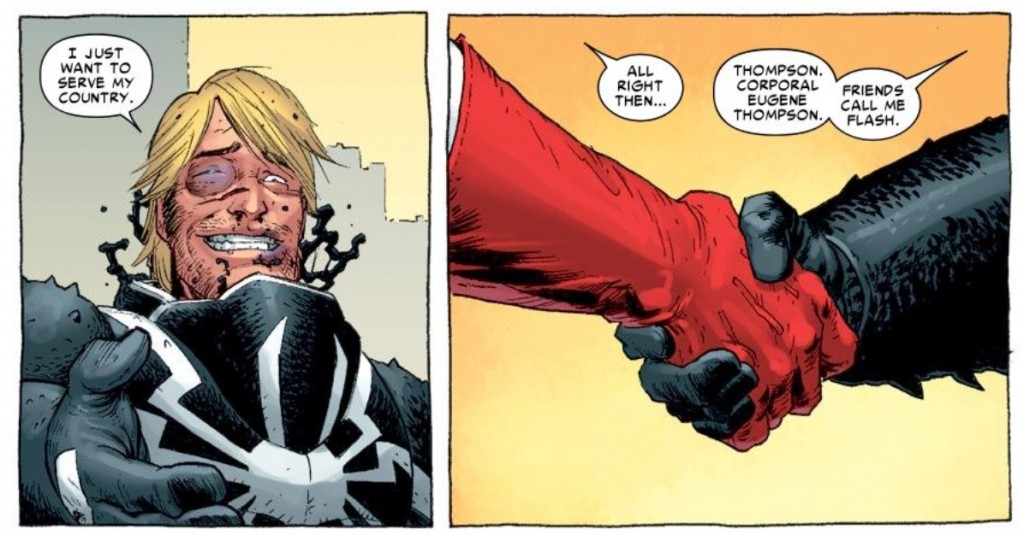 So, while I'll continue to read Venom for the time being, Circle of Four is being tucked away by me in the same place in my mind where I keep my thoughts about Spider-Man 3 and Maximum Carnage, and all of the other storylines/Spider-Man-related media that have left me feeling overstuffed yet unsatisfied. However, I hope Marvel realizes that at the risk of trying to force-feed another batch of characters on their readers, they risked turning some away from the titles they already planned on reading every month.
Images from Venom #13, #13.4 and #14: Rick Remender, Tony Moore, Val Staples, Jeff Parker, Rob Williams, Lan Medina, Nelson DeCastro, Terry Pallott, Marte Gracia & Antonio Fabela. Cover by Stefano Caselli & Frank Martin Jr.