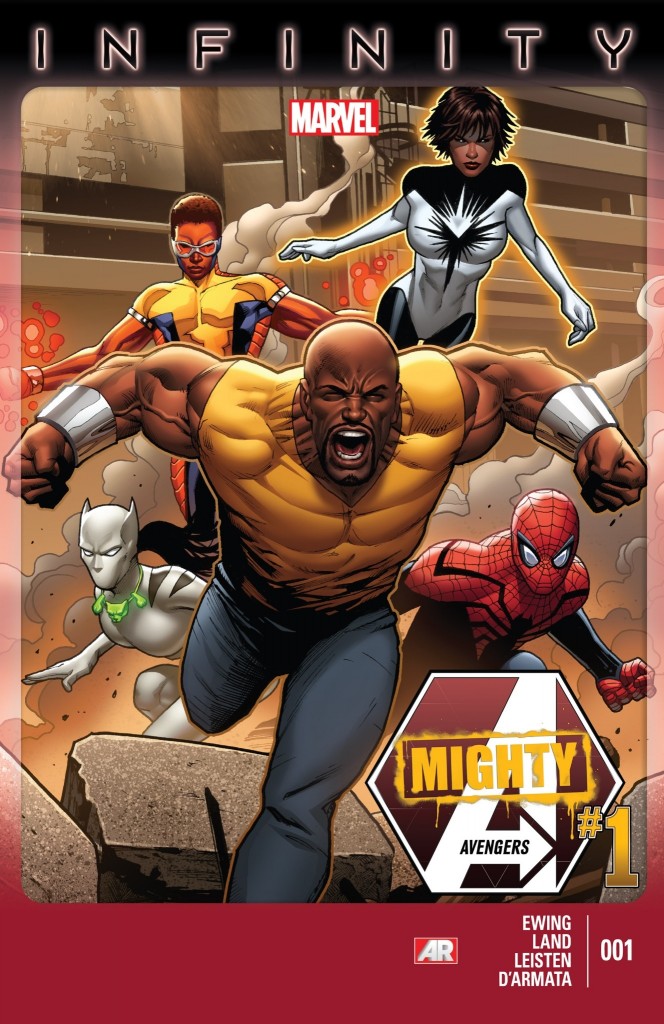 Over the remaining few weeks of September, as part of my acknowledgement of the 50th anniversaries of the X-Men and Avengers, I'm going to be posting new or re-posting old blog posts that will, in a number of instances, refer to my overall dissatisfaction with Spider-Man being an Avenger. I'll talk about how certain writers portray him as too much of a cornball in Avengers stories, or that Spidey often gets overshadowed by his larger-than-life teammates, or that the Web Head has frequently declared himself a "solo" guy in past issues and thus shouldn't be shoehorned into a group.
I'm going to say all those things, and then turn around and hit you all with my post today, which feature my generally positive impressions of Al Ewing and Greg Land's Mighty Avengers #1.
So call me a hypocrite or an idiot.  Your choice.
OK then.
I had zero expectations for Mighty Avengers going back to when I first heard the series was being released in the midst of the "Infinity" mega-event, but I decided to pick it up anyway because I was unquestionably curious about how Spider Ock was going to be portrayed as part of a ragtag team of B-list Avengers.
Without Dan Slott at the helm, Spider Ock's characterization has been a mixed bag during his random appearances in various titles over the past year. But Ewing's script is an instance of a "good" characterization. In Mighty Avengers #1, Spider Ock features his trademark arrogance and ego, but with enough obliviousness and social awkwardness that there's some humor to the story.
There's a familiarity to the character that makes me think Ewing has been reading his Superior Spider-Man and isn't just shoe-horning some random characterization of Spider Ock into his new series for the sake of sales. Mighty Avengers #1 is not a perfect comic, but it's good enough that I have no qualms about seeing this first arc through until (what I'm assuming will be) the end of "Infinity." We'll see where the comic goes from there.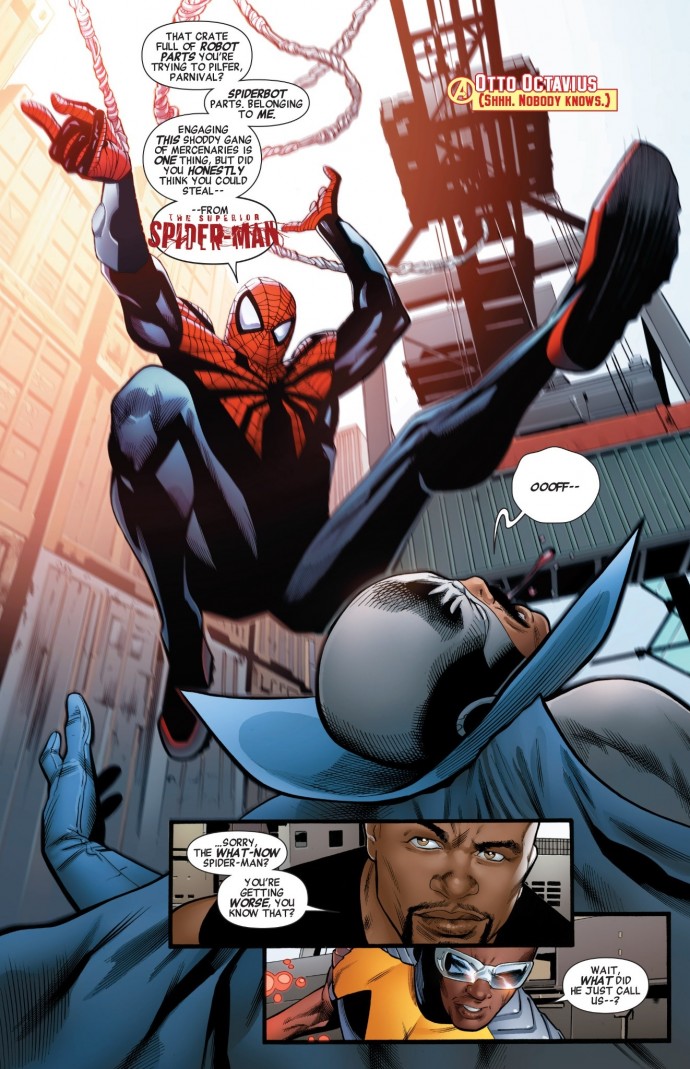 Beyond the familiarity of the character's voice, one of the main reasons I really enjoyed Spider Ock's presence in Mighty Avengers is the fact that among this cast of characters, Spidey truly feels like an A-Lister. It's easy for Spider-Man, especially the Peter Parker Spider-Man, to fall into the background when he's sharing splash pages with guys like Captain America, Thor and Iron Man. It's not that I necessarily think these heroes are "better" than Spider-Man (this is a Spider-Man-centric blog so obviously my bias here is clear), but within the context of Marvel universe, all three are more respected by their peers and by the general public (we very rarely get editorials declaring Thor a "menace").
In Mighty Avengers, Spider Ock is the clear-cut alpha dog. When Luke Cage and his "Heroes for Hire" show up to bust up some crime, Spidey is already there taking care of business and brushes off the likes of Power Man and White Tiger as the second-stringers they are. And even while he's being an arrogant jerk, White Tiger demands that Power Man show Spidey some respect (due to the long-standing rapport between Spider-Man and her uncle, the original White Tiger). By the time the confrontation is over, Power Man is the one left cracking unfunny jokes.

As a Spider-Man fan, I enjoy seeing this version of Spidey interact with a super-team rather than the free-balling one that first joined the Avengers during Brian Michael Bendis' groundbreaking New Avengers run in the mid-2000s. Again, I see the hypocrisy in all this. Wasn't I deriding Superior Spider-Man #14 for being too over-the-top with the Spider-Man chest-beating? That's true. The difference here is that if Spider-Man is going to be a part of a super-team, as a fan I don't want to read about him having to get down on both of his knees and ask for respect from other Marvel heroes. Spider-Man has been doing his thing for 50 years (in real time). He's fought Doctor Doom, Green Goblin, Thanos, Juggernaut, etc. I honestly get a kick out of Spider Ock demanding respect, rather than begging for it.
Meanwhile, I think Ewing finds an efficient and easy to accept way to bring all these heroes together in order to launch the Mighty Avengers team. The A-list Avengers are off in space fighting Thanos and the Builders and everyone else you can think of in "Infinity" and Earth is now ripe for the picking. It's already been established by Slott that Spider Ock is obsessed with protecting New York City and proving himself Peter's better at any cost, so having him join up with Cage and the Heroes for Hire when Thanos's lieutenant Proxima Midnight makes her move on Earth seems pretty sensible. Plus, based on the most recent account of things (and it does change from series to series) Spidey is still a member of the Avengers, so he actually has some semblance of "authority" to protect Earth.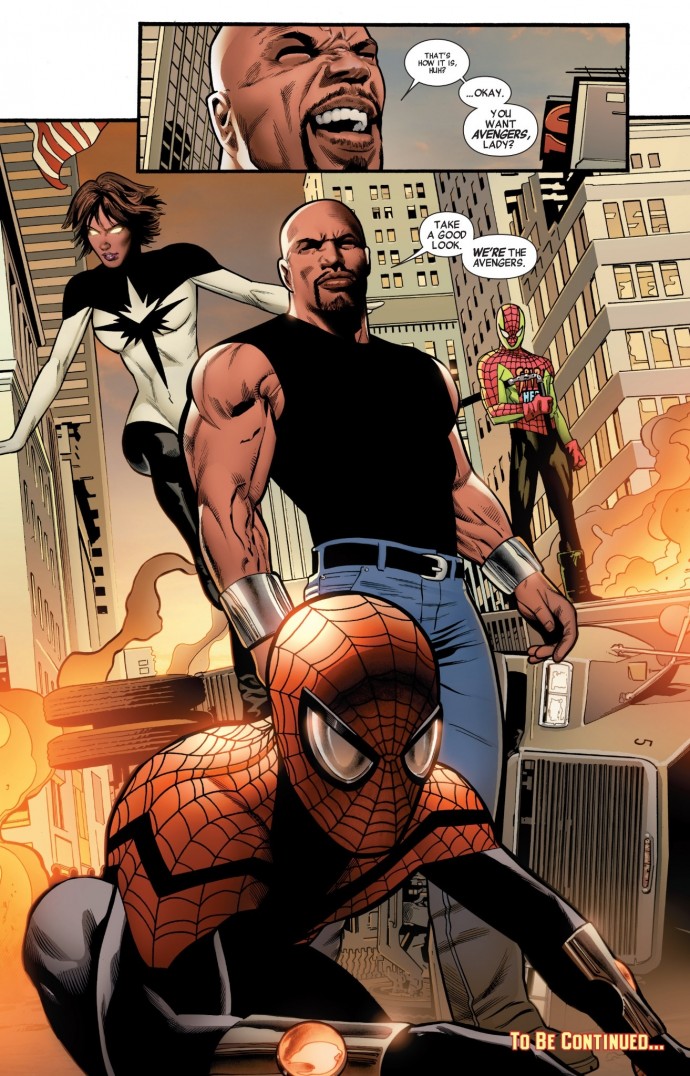 Additionally, I really enjoyed Cage's characterization in this story. Luke and Spidey have teamed-up (or faced-off) countless times in the past, but I'm far from a big fan of Cage. Still, showing him struggling with his "retirement" from the Avengers and still wanting a taste of the thrill that comes from being part of Earth's A-List super-team is a fun dynamic for the series. He definitely left me with a Roger Murtagh "I'm getting to old for this *bleep*" vibe, which I think can lead to some worthwhile exchanges between Cage and Spider Ock as the circumstances become more intense.
So mark this date down ladies and gentleman. Chasing Amazing has posted a favorable write-up of an Avengers/Spider-Man story. Take a picture, because depending on how prominently Spider Ock is featured in future issues of Mighty Avengers, this could be the first and last time I write about this series around here.
All images from Mighty Avengers #1: Al Ewing, Greg Land & Jay Leisten