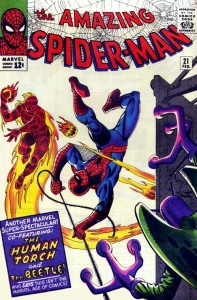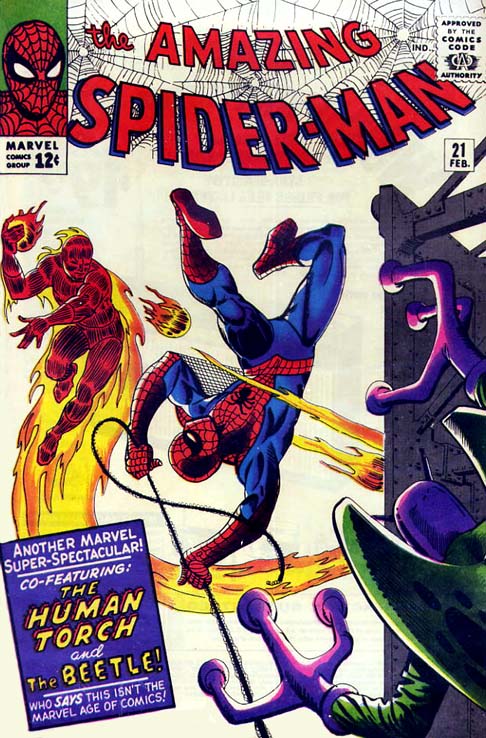 It's been a while since I've been able to cross off another vintage copy of Amazing Spider-Man and narrow my chase down by another issue, but I was able to do just that when Santa delivered ASM #21 in VG/FN condition this past Christmas. Receiving this comic book made it a merry Christmas indeed, as it narrows my remaining chase down to five issues – four rather huge ones (ASM #1, #3, #4 and #6), and one pretty significant crossover with another major Marvel hero (ASM #16). In other words, it's still a long climb up the mountain, though I'm still determined to get there.
As some of my more long-term followers may note, my chase slowed down substantially in late 2011 when my son was born. After spending years putting aside a set amount of discretionary income every month for the sole purpose of buying 40+ year-old comic books, I thought for the sake of pragmatism and responsibility that I needed to curb my spending habits and focus those extra pennies on making sure my family was well provided for. It certainly was an easy decision to make, as the stakes have never been higher in my personal life. And yet all the same, it's a decision that has still caused a little bit of pain emanating from my more selfish impulses.
Fortunately (or not, depending on your take on the new status quo), I had new issues of ASM and other spinoff series like Avenging Spider-Man, Venom and Scarlet Spider (not to mention a couple of mini-series and crossovers) to give me my regular "fix" of Spider-Man, but the thrill of holding one of these older comic books in my hand has been impossible to replicate. There's just something so visceral about this chase for me. I'm able to put it aside to serve the greater good, i.e. my beautiful son and incredibly supportive wife. But on the few occasions this past year where I was able to narrow my chase down I've also been overcome by my impatient desire to just get to the finish line. It's like that old device of the angel and the devil sitting on my shoulder, with the devil doing his best to get me to just empty the bank account and buy those last few issues up in one fell swoop. What difference does it make if it's done in one lump-sum instead of being spread out over time?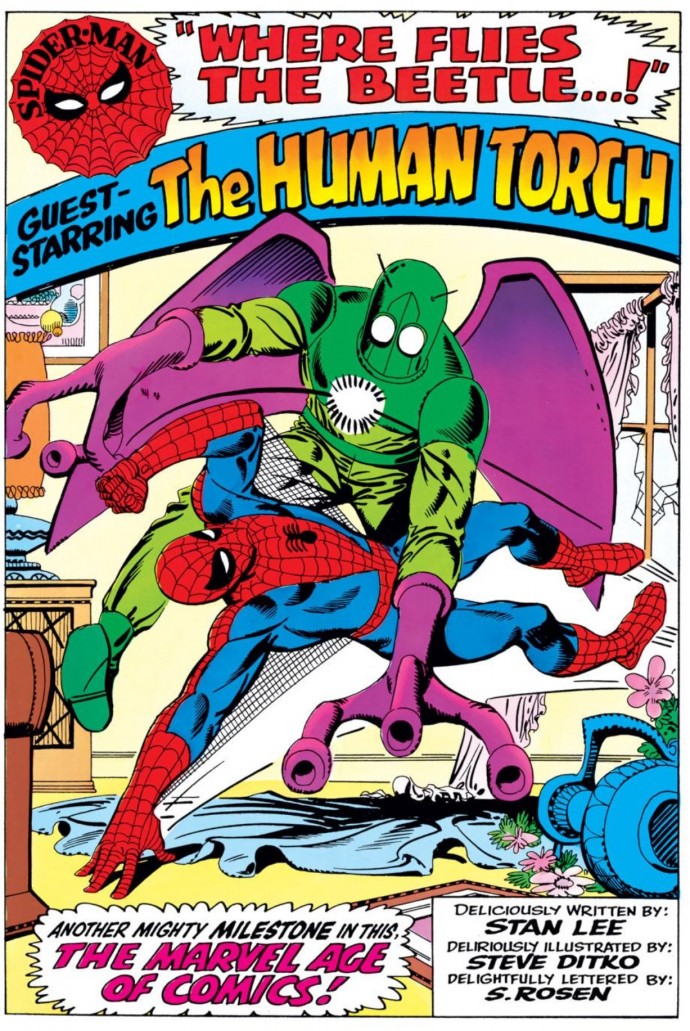 And all the same, there's something oddly rewarding about backing my pace down and picking these issues off one … at … a … time. It certainly enhances the specialness and nostalgia of a birthday or Christmas where I unwrap a present and find one of those few remaining copies of ASM waiting for me. And on those even rarer occasions where I treat myself to something nice, it's certainly satisfying to know that through some exemplary fundraising and sleuthing, I've been able to inch closer to my goal.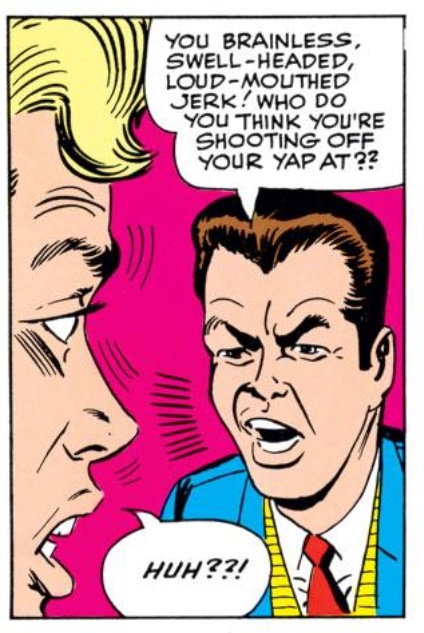 I'm still incredibly daunted by the task of getting those remaining issues. ASM #16 for whatever reason, has always been a tricky comic to find that meets my quirky set of requirements (mid-to-low grade but still physically attractive – i.e. little no writing/coloring on key sections of the cover, nothing cut or taped). And those other four issues are going to be a total bear to grab. Last summer's Amazing Spider-Man movie has seemingly upped the price for ASM #6, the first appearance of the Lizard, and now with the status quo change from Amazing to Superior in the current land of Marvel, I have to assume that the first appearance of Doc Ock (ASM #3) is going to be impossible to find in decent but affordable condition. ASM #4, the first Sandman, is probably the only one of those four issues that doesn't appear destined for a upswing due to 2012-13 pop culture happenings. And of course, issue #1 remains issue #1. 'Nuff said.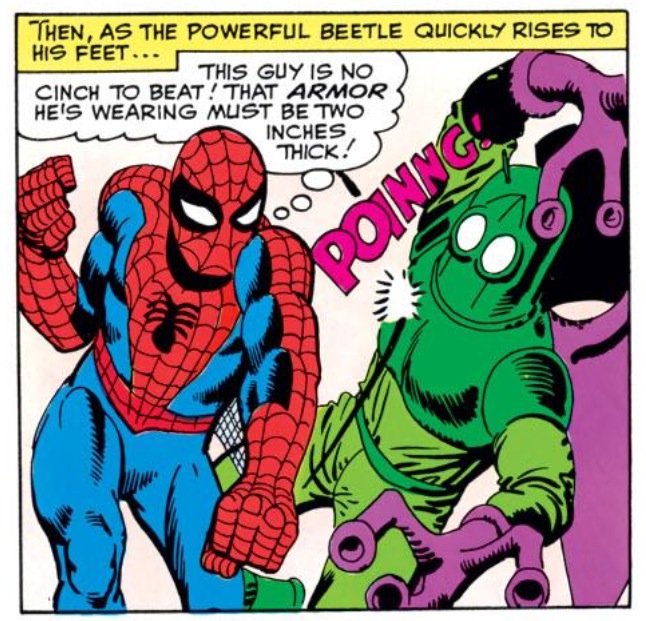 In an effort to grab one of these big issues, I'd like to set aside a certain amount of money every week as a sort of end of the year reward for patience and discipline. I'm sure most of us have those nickel and dime expenditures that we fail to account for over the long-term, like coffees, magazines, lunches with colleagues, an extra beer at the bar, etc. I have to assume that if I cut these down by at least half that I should be able to take what's left over after 12 months and put that towards a copy of ASM #3, #4 or #6.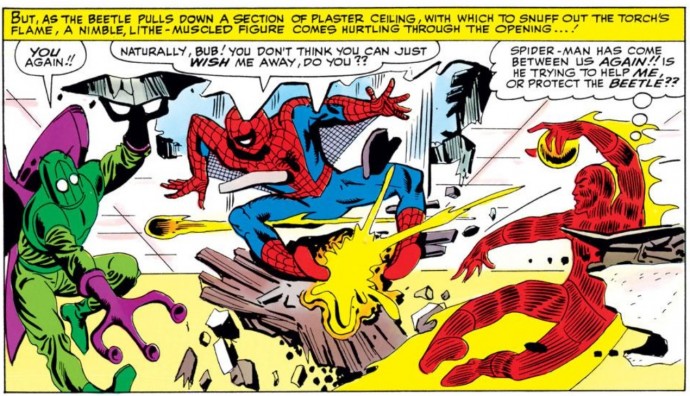 Meanwhile, in a perfect world, I'm hopeful that if I continue to practice the skill that is my true labor of love – writing – that I'll eventually be rewarded for that outside of my desk job in a way that will help me acquire ASM #1 and/or the remaining issues in my chase. Otherwise, I will continue to slowly peck away here, and hope that my opinions on new Spider-Man content, as well as my ruminations on the past, are enough to keep you guys engaged until this chase is finally done.
All images from Amazing Spider-Man #21: Stan Lee & Steve Ditko