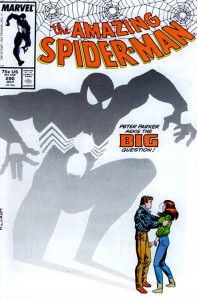 While it was not intentional, I realized that this week's posts had trended towards a theme – one that discussed Peter's relationship with first love Gwen Stacy, and then a follow-up about a new issue that feature another former flame in the Black Cat. So I thought I'd complete the trifecta and pick a "remembrance" this week that somehow related to Spider-Man's one-time wife Mary Jane Watson.
The only problem is that I don't necessarily have a fascinating story about the acquisition of the issue I've selected here, ASM #290. Perhaps if I had not run my story about ASM #59 months earlier, I would have had a good Mary Jane/comic collecting story at my disposal. As it were, I can sum up the acquisition of this story in about a sentence: ASM #291 was part of the giant box of back issues I received about 10 years ago which essentially put me in a position to start seriously debating the merits of collecting EVERY issue of Amazing Spider-Man. And since I've already told that story in the pages of Chasing Amazing, there's no reason to rehash except in link format.
With all that said, I've made it very clear in the past that not every story I tell about a comic book pertains to the circumstances behind its acquisition. Like Marcel Proust's madeleine, a comic book can invoke a sometimes random, involuntary memory about my life, whether it be an anecdote about collecting, or a specific moment in time of emotional importance. And a comic book cover that illustrates my favorite character of all-time popping the question to his girlfriend, definitively evokes a certain remembrance of things past for me.
With her red hair, witty sense-of-humor and aspirations to be an actress, back when we were still dating, my wife always joked with me that she was my Mary Jane. But nothing can be further for the truth. Because unlike the "real" Mary Jane Watson, my relationship with my wife has always been simple and effortless, even when it involved such dramatic things like planning a wedding and raising a child.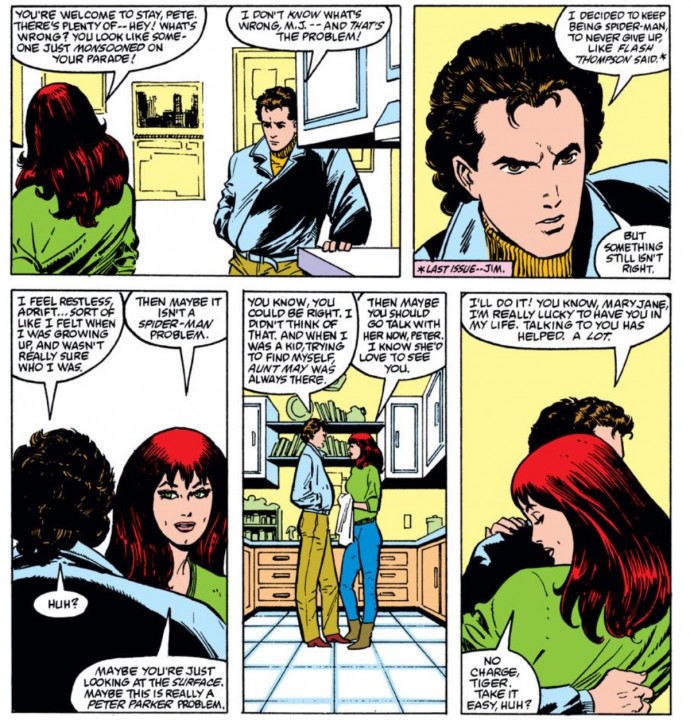 Perhaps I was tapping my inner MJ when we were still dating by inadvertently complicating things between us – namely avoiding that storybook moment in a woman's life when her love gets down on a knee and pops the question. I knew very early in our relationship that we would spend the rest of our lives with each other, but given we first found each other while we were still so young, I was also never in a rush to move on to the "rest of our lives" portion of things. We were happy with the status quo, or at the very least, I was happy. And when you're happy, you try not to complicate things. But by being so complacent, I was essentially being complicated about things. Over-thinking things. Not accepting the reality that was in front of me.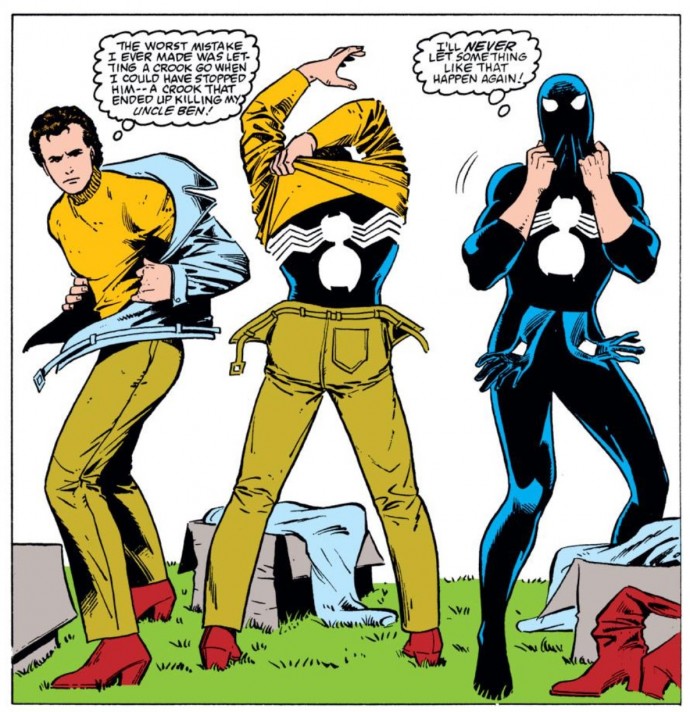 Not that I needed confirmation, but when I finally decided to stop being complicated and embrace "the rest of our lives," I was instantly reminded of the ways my soon-to-be-wife was not Mary Jane. After getting down on one knee in our hotel room in York Beach, ME, not necessarily someone's idea of a romantic get-away to start, we celebrated the milestone occasion by getting burgers and beers at the hotel restaurant. The very next day, when were figuring out how we'd spend our first full 24 hours together as an "engaged" couple, we did what we wanted to do rather than what convention dictated: we went to a local "fun park" that featured a small zoo, go-carts, miniature golf and a ferris wheel. When my wife grabbed her tickets from the booth clerk, the woman remarked that she had a lovely engagement ring. My wife followed-up that she had just received said ring from me last night. The woman was both tickled and confused by the revelation. But it all made sense to us. Without complications.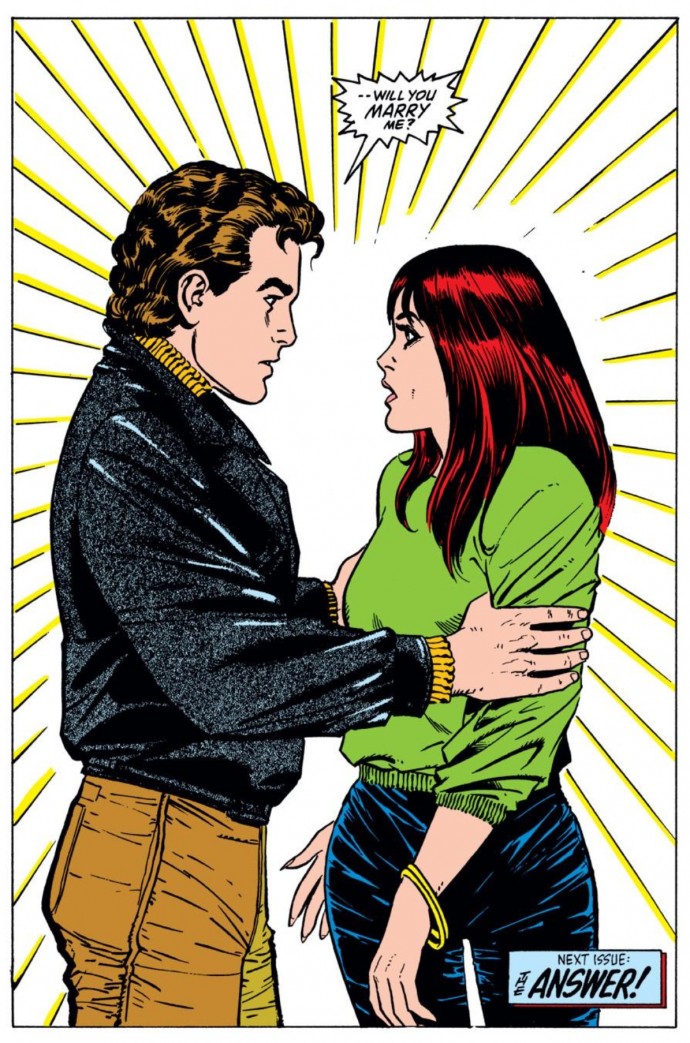 In a lame attempt to tie this story back into the world of comic book collecting and Spider-Man, I'll always give my wife credit in not only supporting my "hobby" which involved spending good money on little magazines about men in tights, but also being an active participant. And as has been the case throughout our 11+ years of love and marriage, she's almost always been completely uncomplicated about the status of my collection, and my desires to one day own every issue of Amazing Spider-Man, including some very expensive issues that I have yet to buy. Just recently, after getting some inspiration from the charming sitcom "The New Girl" my wife proposed starting a collection "jar" where we both insert a dollar any time we get a little "jerky" with each other (for lack of a better word. On the "New Girl" they use a D-word that rhymes with whoosh-bag). The sole purpose of this jar? It's the issue #1 fund of course. Granted, it could take years of unsavory behavior to collect enough dollar bills to purchase an acceptable low grad copy of ASM #1, but the good news is, I don't have to worry about any of these ruining our marriage. Because again, unlike MJ, my wife is not very complicated, and unlike the world of ASM, I don't have to worry about cutting a deal with Mephisto that could erase my marriage from the collective memories of the entire universe.
All images from Amazing Spider-Man #290: David Michelinie, John Romita Jr. & Vince Colletta. Cover by Al Milgrom.