Welcome back to another episode of Amazing Spider-Talk! In this installment, Dan Gvozden (from superiorspidertalk.com) talk about Amazing Spider-Man #16 (vol. 3) by Dan Slott and Humberto Ramos, read your comments and e-mails and talks some recent spider-news like the upcoming "Renew Your Vows" arc.
Now, you can listen to the podcast through Chasing Amazing and the following player!
Here are this episode's chapters: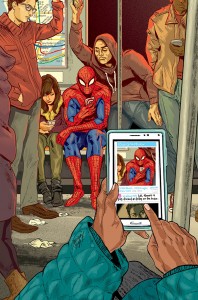 0:00 Opening
2:00 Featured Review: Amazing Spider-Man (vol. 3) #16
29:27 Comments and Emails
38:24 Friendly Neighborhood Spider-Talk
41:07 Spider-News
47:49 Goodbyes and Contact Info
Articles discussed in this show:
Dan's Review
Mark's Review
"Renew Your Vows" to be Written by Dan Slott, Replace Amazing during "Secret Wars"
As always, don't forget to subscribe to Amazing Spider-Talk through iTunes and on Stitcher. And while you're there, leave us a rating and a review, which we will read on air. If you want to e-mail us a question, send it to amazingspidertalk at gmail dot com. Also, please consider helping to keep our show on the air by donating to the Friendly Neighborhood Spider-Talk Members Club.