Over the past few weeks, Marvel has been releasing a series of terse, one or two-word teasers for some of its new titles and storylines that were going to be announced at New York Comic Con. For Spider-Man fans, no teaser was more cryptic or tantalizing as "The End," with its creative team of Dan Slott and Giuseppe Camuncoli (of Superior Spider-Man fame). Would this be the end of Doc Ock as Spider-Man? Slott's run on Superior? Something else entirely different? How much would be revealed at today's Superior Spider-Man and Friends panel?
Well … we learned SOME things. In a panel filled with a plethora of subterfuge and non-denial-denials, Slott, editor Stephen Wacker, and a host of other Marvel creators talked about the upcoming Superior-centric solicitations, including the Black Cat/Stunner arcs in Superior Spider-Man #20 and #21, which Slott described as having some "cringe-worthy" moments, along with the "Superior Venom" story coming in November/December where Slott hinted could mean big trouble for the current Agent Venom, Flash Thompson, who "doesn't have his own title to go back to."
But the big (non) reveal was the "Goblin Nation" story, which will kick off in January with a prelude issue, Superior #26, and then ramp up in February with Superior #27.Now. The story is designed to be a crescendo for the Superior era, which kicked off last January and has already seen a number of shock moments, like the erasing of Peter's memories in Superior #9 and the fall of Shadowland in Superior #14.
"Everything that's been happening in Superior Spider-Man has been all setting up dominoes," Slott said of "Goblin Nation." "Green Goblin on this side, Doctor Octopus on this side, it's all leading to this."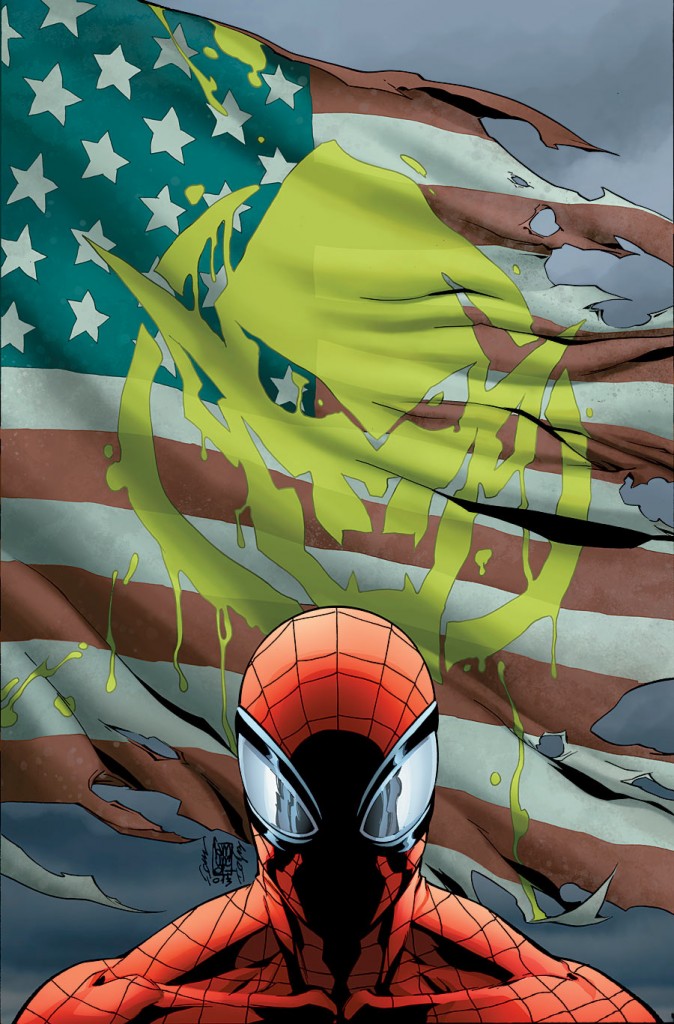 Slott and Wacker told the crowd that they should expect pretty much anything in this five chapter story.
"There are no characters, I don't care if Steve Ditko created them, I don't care if John Romita Sr. created them … all bets are off … any one of them can go," Slott said.
You can hear more of my thoughts in Superior Spider-Talk, but as has been the case with all these other "game changer" issues, as long as they are well told stories that resonate emotionally, I'm not going to get caught up in who "live" or "dies" in a comic book series. Later, during the question and answer period, Slott made some ominous references to Norman and Harry Osborn, and other "alternative" versions of Spider-Man a la Miguel O'Hara and Spider-Man 2099, so I honestly have no idea where this all could be headed beyond my general assumption that Spider Ock is going to wreck things even more for Peter for when he eventually makes his return in a current "now" series (and yes, Slott and Wacker can say Peter is "dead" and will remain dead until their blue in the face, I contend that Doc Ock's time at Spider-Man is not permanent).
Beyond the Superior Spider-Man news, the panel also revealed that Kaine, aka the Scarlet Spider, will not be killed off when his series ends in December and instead will be part of a new New Warriors series, written by Chris Yost and illustrated by Marcus To.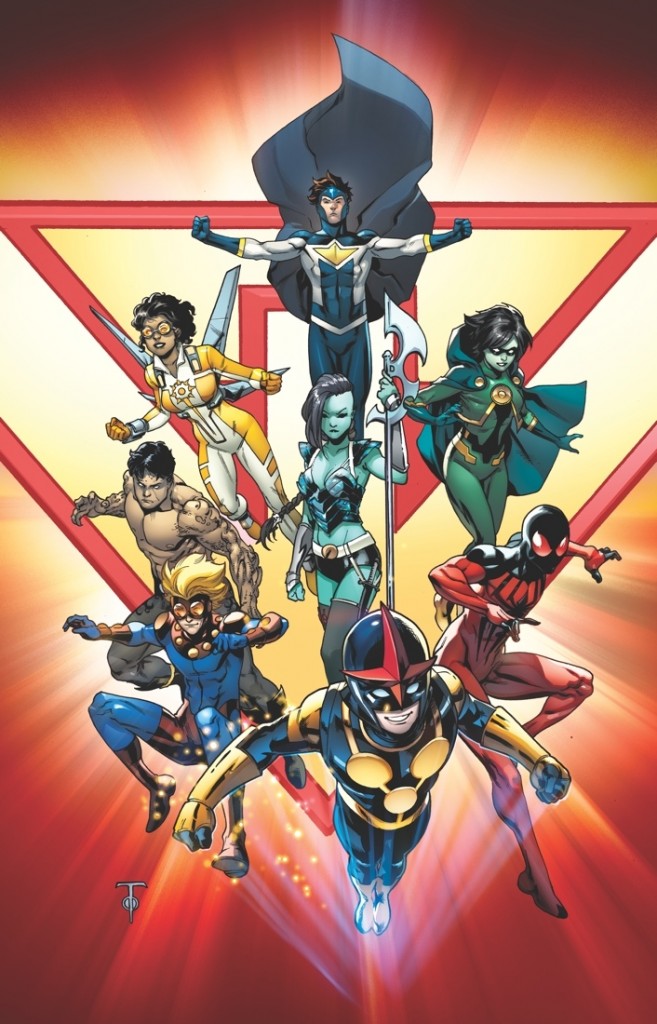 Like a lot of these Spider-relevant titles, I'll probably give this a two-three issue sniff test to see if it's worth the monthly expense as part of my pull list, but I was never a huge New Warriors fan the other umpteen times the series has been existed, and I have some general reservations about a character like Kaine being on a hero team.
Beyond the Spider panels, my last time at New York Comic Con was fulfilling in a very personal way. I wrapped up the last of my interviews that will hopefully be part of our Superior Spider-Talk library in the near future, and one of those interviews was with Spider-Man artist Alex Saviuk. Saviuk enjoyed an extended run as penciller of Web of Spider-Man and currently illustrated the Spider-Man daily newspaper strip. But he also provided the pencils/covers to Amazing Spider-Man #296-297, my first Spider-Man story as a 7-year old. I told that story to Saviuk, who seemed to be sincerely touched by it, which then led to a very enjoyable conversation on this last day. As a long-time fan, these are the interactions I live for.
Overall, after four days at NYCC, I feel like I've been living in an alternative dimension since Thursday from which I'm just reconnecting to reality. I had a lot of fun talking with creators, shopping and sitting in on some interesting/intriguing panels, but also had to contend with immense crowds, technical snafus and other assorted frustrations. It was a real thrill to get to cover the event as "press," but I wonder how my perspective would be different if I got to enjoy it purely as a fan. Either way, I hope Chasing Amazing's first major con experience was good for you readers/podcast listeners out there.