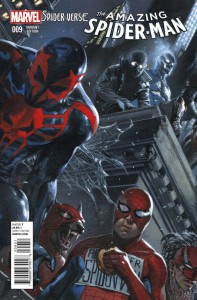 "Spider-Verse" is now officially in full swing, so why not check out what the greatest Spider-Man podcast has to say about it? Thwip over to superiorspidertalk.com to download Episode 9 of Amazing Spider-Talk. In this episode, Dan and I talk about the all new Amazing Spider-Man #9, and then flash back to Amazing Spider-Man #30 (vol. 2), the first appearance of Morlun (and the first issue of the J. Michael Straczynski/John Romita Jr. run.
As always, don't forget to subscribe to Amazing Spider-Talk through iTunes and on Stitcher. And while you're there, leave us a rating and a review, which we will read on air. If you want to e-mail us a question, send it to amazingspidertalk at gmail dot com.
Lastly, don't forget to support our show by joining the Friendly Neighborhood Spider-Talk Members Club. Your donations help keep this podcast alive!