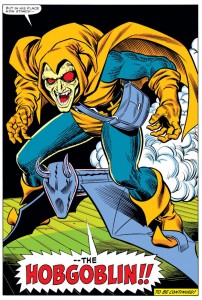 UPDATE: The second past of my Hobgoblin story is live on Comic Book Resources.
As regular readers of this site should note, I have a bit of a Hobgoblin obsession. So much so that former Spider-book editor Jim Salicrup told me that I was acting like the backstory of the Hobgoblin's botched reveal was akin to the Kennedy assassination.
The good news is, I've found an appropriate venue for my obsession. Comic Book Resources is running a two-part feature I wrote about the story behind the story of the Hobgoblin. This article takes information from interviews I've conducted independently for the Superior Spider-Talk podcast with such Marvel greats as Roger Stern, Tom DeFalco, Ron Frenz, Peter David, Glenn Greenberg, Salicrup and Danny Fingeroth.
I don't know if I'll ever stop asking questions about the Hobgoblin, but I'm certainly very happy to get this story that I've been slowly researching over the past six months off my chest. Many thanks to CBR for agreeing to run my piece!