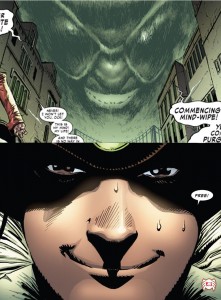 Episode 2 of the Superior Spider-Talk podcast is live and ready for your ears. Download it to your portable devices now (to get the full multimedia benefits, we really recommend you use an iOs device) by visiting our PodOmatic site, or by subscribing through our page on iTunes.
In Episode 2, Dan Gvodzen and myself talk about the game-changing Superior Spider-Man #9 and where the series goes from here. We also talk about the return of Spider-Man 2099 later this year, and revisit the "Mr. Parker Goes to Washington" arc involving Tony Stark/Iron Man, which was the hot topic on Chasing Amazing last week.
We hope you enjoy the show, and please, if you can, rate us and leave a comment on iTunes. We'll read your feedback on the air. If you have any questions, theories, or anything you want us to discuss on Superior Spider-Talk, e-mail us at superiorspidertalk at gmail dot com.