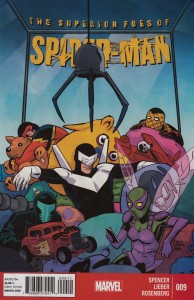 OK folks, Dan and I have been sitting on this one for a bit but it is well worth the wait. The latest episode of Amazing Spider-Talk, the greatest Spider-Man podcast on the internet includes a very special interview with Nick Spencer and Steve Lieber, the dynamic duo behind one of the best comics of the past two years, Superior Foes of Spider-Man. Stream it by going directly to superiorspidetalk.com.
Here are some chapter listings for those of you who need that sort of thing:
0:00 Opening
1:41 Amazing Friends: Nick Spencer and Steve Lieber
1:16:06 Goodbyes and Contact Info
As always, don't forget to subscribe to Amazing Spider-Talk through iTunes and on Stitcher. And while you're there, leave us a rating and a review, which we will read on air. If you want to e-mail us a question, send it to amazingspidertalk at gmail dot com. And support our show by signing up for the Friendly Neighborhood Spider-Talk Members Club.
Thanks again to Nick and Steve for donating their time for this awesome interview. These guys, right?