The Haul:
ASM #15 (Very Good)
ASM #23 (Very Good plus)
Final Tally: 19 issues to complete the run.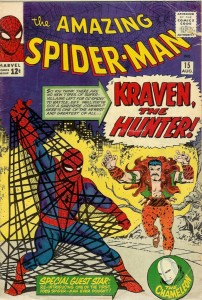 When a hobby or collection spans the course of many years, like my quest to collect every issue of Amazing Spider-Man, you become really focused on benchmarks and milestones. When I first started, I was excited just to complete a small-run of issues. I remember in junior high school being rendered estatic by the fact that I had purchased Amazing Spider-Man #40, #41 and #42 over the span of a few months, giving me three consecutive issues during the Silver Age. As I got older, I would make note of when I had every issue between #200 and #400. When I subscribed to ASM around issue #500 and then knocked off all of those pesky series II Spider-Man's in the 400s, I officially had every issue back to #200. Stumbling upon a cheap issue of #199 soon after that last milestone meant I had everything back to #195.
Having everything dating back to issue #100 was a huge step for me, and even a potential point for me to call it quits – we were starting to get into very expensive territory here so who would blame me for collecting more than 500 issues of Amazing Spider-Man and then supplementing the rest of the run with hardcover or paperback collections of the first 99 issues? Of course, I didn't stop.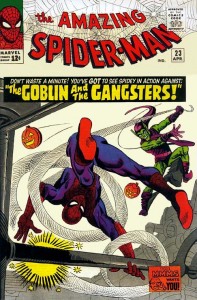 While in truth, every issue at this point is a personal milestone – in June 2011's case I picked up two very key issues of the Stan Lee/Steve Ditko era: ASM #15, the first appearance of one of Spidey's great villains, Kraven the Hunter, and ASM #23, the third appearance of the Green Goblin, Spider-Man's arch-nemesis. In recent months, I talked about picking up other milestone issues, like ASM #33 which completes a three-issue storyline that ranks among the most famous and inspirational in Marvel history, or ASM #9 which was my first issue in the single-digits (only to be supplanted one month later by ASM #8, then and still, the oldest issue I own). But in addition to the key storyline elements that take place in my June haul, I've reached another milestone that's worth celebrating. I now have less than 20 issues to go to complete my quest.
The 20th anniversary of something is always a momentous occasion. Only a few years ago, I was in the stands of Shea Stadium for the 20th anniversary celebration of the 1986 New York Mets World Series Championship Team. I can't pick up a copy of Rolling Stone or some other entertainment or news magazine without seeing a new "20th Anniversary Edition" of some album, book or historic event. And while I'll my 21st birthday will always be a very significant milestone in my life, entering my 20s for the first time was also an eye-opening milestone in my life.
Even currency honors the number 20. While the units we used to gauge payment are dollars and cents, the bulk of us who acquire cash through the use of an ATM typically have to withdraw money in increments of 20. Who cares if all you need is $35 for the night. You're taking out $40 because the ATM wouldn't have it any other way.
So surpassing the "20" benchmark in comics left to collect in June 2011 is something I'll hold on. Heck, even if I slow down my collecting from its current pace, if I average an issue a month, I'll have completed my quest within two years – a totally manageable timeframe considering it was about 23 years ago when I bought my first issue of Amazing Spider-Man. And if I happen to get stuck on those last three or four pesky, hard-to-find (and expensive) issues, I'll at least have a good chunk of my life left in front of me to take care of business. Coming this far and still having 200 or 100 or even 50 issues left to buy? Not so much. It would still feel like an uphill battle that would take many, many years before I'm even in the catbird seat and discussing finishing my run. Having less than 20 issues to go? I can do this. I have to do this, right?