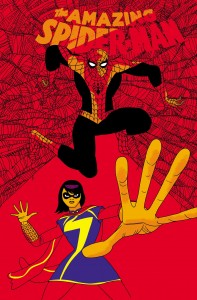 Here we go Spider-Friends, the latest episode of Amazing Spider-Talk is available for download over at the fantastic superiorspidertalk.com. In this episode, Dan and I share our thoughts about Amazing Spider-Man #7 (vol. 3), talk about all the new books announced at New York Comic Con, and then discuss some key acquisitions in our personal collections.
As always, don't forget to subscribe to Amazing Spider-Talk through iTunes and on Stitcher. And while you're there, leave us a rating and a review, which we will read on air. If you want to e-mail us a question, send it to amazingspidertalk at gmail dot com.
Lastly, don't forget to support our show by joining the Friendly Neighborhood Spider-Talk Members Club. Your donations help keep this podcast alive, so if you're a fan of these creator interviews, along with the rest of the content, please check out the club!
Related Articles
Mark's Review
Dan's Review
NYCC Silk Ongoing News
Spider-Gwen News
Chase Complete