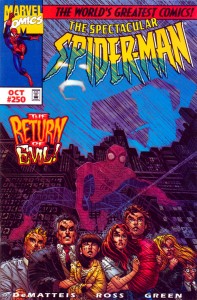 Episode 3 of the Superior Spider-Talk podcast is live and ready for you to download. Check it out on our Podomatic website or on iTunes (and if you haven't yet, be sure to rate us and leave a review, which will read on air during the recording of Episode 4).
For this episode, Dan Gvozden (from Grind My Reels) and I break format and bring in a special guest, Tyler Barlass from SpiderFan.org, one of the best (and oldest) Spider-Man fan sites on the world wide web. Tyler shares some stories with us about SpiderFan and Spider-Man, and then talks about one of his favorite, under-appreciated arcs, Spectacular Spider-Man #248-250.
If you have an iOs device, we recommend you listen to the podcast on one of them, since we have additional content and links that is best optimized for iPhones, iPods and iPads.
As always, feel free to send Dan and I any feedback on Twitter @dangvozden or @ChasingASMBlog or by e-mail at superiorspidertalk at gmail dot com.