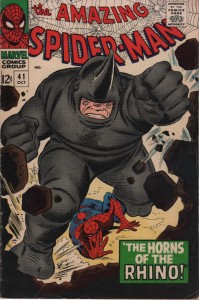 They say you always remember your first, and for comic book collectors, there's nothing more important than an issue featuring a character's first appearance. Amazing Spider-Man #41 was my first first – in this case the first appearance of Rhino, a brutish villain who had his strength and speed augmented through an experiment involving polymer skin.
If the character has any significance whatsoever in the comic book universe, the issue where they first appear will hold some value. Obviously, the more significant the character, the more expensive their first appearance will run you. The first appearance of Spider-Man, Amazing Fantasy #15 recently sold for more than a million dollars. Fortunately for my bank account's sake, my first first appearance was worth nowhere near that amount.
After successfully procuring my first Silver Age-era issue of Amazing Spider-Man in junior high school, the next logical step for my collection was to purchase the first appearance of somebody in the Spider-Man universe. Some friends of mine were talking about going to an upcoming comic book show at a hotel near my hometown where dealers apparently had just about anything I could want.  The hotel held these shows every month, and my friends were telling me about all of the great comics they picked up for cheap, speculating about what was going to be their next great find. I decided that this show would be where I found my first first. Better put, I was determined to walk out with a first appearance of some kind – hopefully from an Amazing Spider-Man comic with the coveted "12 cents" price marker in the top left corner; the insignia of all of the oldest and best Spidey comics out there in my childhood mind's eye.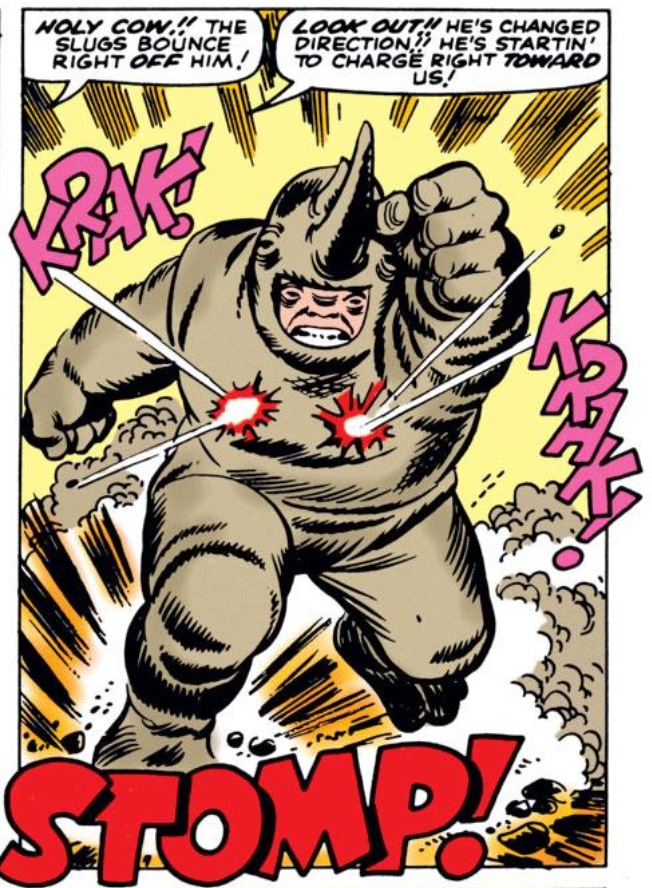 Even at 13, I wasn't naïve enough to think I would be able to snag the first appearance of Spidey with the $50 or so I had in my wallet. But I was still hopeful to walk out of that show with something good. Something that I could brag about at school that Monday to all my friends. "Yeah you got an issue X? Well I went to that show on Sunday and walked out with an issue Y." I just needed to figure out what that issue Y was going to be. I was so excited by the prospect of getting my first first appearance that a solid week before the show I layed down on the floor in my bedroom, opened up my copy of the Wizard price guide, and started scouting the possibilities.
Now before I go any further, let me just clarify that I understand that today, the Wizard price guide is considered a bit of a joke. It's essentially just a magazine designed by the comic book industry to hype and push the sales of comic books.  At the peak of the comic book speculation market in the early 1990s, who knows how accurate any of those listed prices were. I know most respected buyers and sellers today use the Overstreet Price Guide. But at age 13, I had Wizard and their "hot" lists to guide me.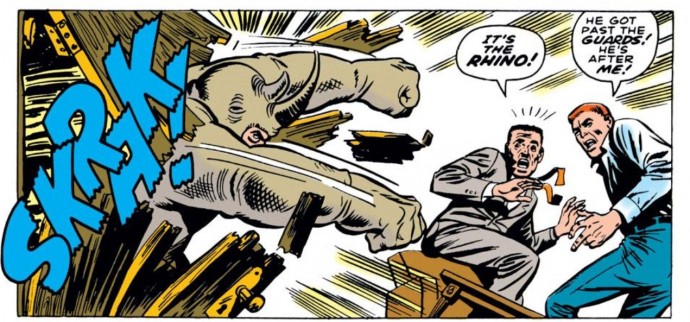 I didn't have to flip far in the alphabetical listing to get to Amazing Spider-Man. There were just so many firsts to choose from: ASM #2, first Vulture. ASM #3, first Doctor Octopus. ASM #4, first Sandman. And on and on. Was every early issue a first appearance? And were they all this expensive? We're talking hundreds of dollars. Maybe my first first wasn't destined to happen anytime soon.
But by the time I got into the #30s, the prices started to look more reasonable. ASM #36, the first Looter. ASM #37, the first Norman Osborn. None of these guys were really lighting my fire. And then I finally got to ASM #41, the first Rhino. Provided I could make a "deal," the price seemed right. The first Rhino had some possibilities.
For the record, I'm not some kind of hardcore Rhino fan – if they're even is such a thing. Sure I always thought the rhinoceros was a pretty cool animal, probably because they reminded me a lot of my all-time favorite dinosaur, the triceratops.  But Rhino the comic book character wasn't necessarily a favorite. Just someone I was familiar with. Rhino has jumped around antagonizing different superheroes throughout the years. While he started with Spider-Man, he's also spent a fair chunk of his villainous career taking on the Hulk. As someone who was well-versed in all things Marvel, he seemed accessible enough that if I went into school the next day and said I pulled down the first Rhino, people would know what I was talking about.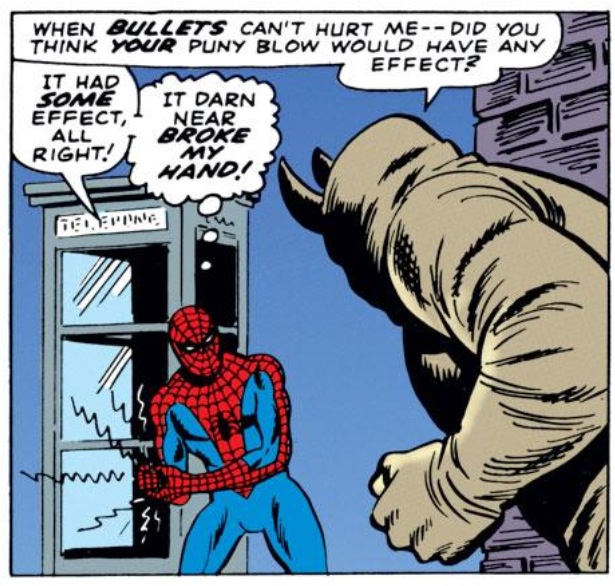 Prior to this show, my only experiences buying comics were from comic book shops and other general memorabilia/collectible stores. I had no idea what I was getting into. When we walked into the hotel, a big placard near the lobby desk pointed visitors for the show to the downstairs ballroom area. We paid a couple of bucks each to get in (and thus, my lifelong irritation of having to spend money for the privilege to spend even more money on merchandise began), entered through the big double doors of the ballroom – and all I saw was controlled chaos. Big tables everywhere. Guys with display stands behind them showcasing their oldest and most expensive comics. Short and long boxes, packed to the brims with comics. Most boxes weren't arranged by comic title, but by superhero name. For example, if I wanted a Detective Comic, I would look under Batman. I had multiple challenges in front of me – I had to find a table with Spider-Man comics, then dig out the Amazing Spider-Man comics from all of the other Spidey titles, and then find ASM #41. Considering I was ready to explode with anticipation leading up to this moment, I don't know how I ever had the patience to stick with the goal I had set and not just buy the first interesting looking ASM book that I saw.
After a good 20-30 minutes of searching tables, I finally found a dealer with a big box of Amazing Spider-Man comics. I had to elbow my way in, pushing my way through older, taller teenagers and adults to get my position. But I could see from the first few issues being flipped through that this guy had a number of 12-centers in that box. ASM #41 and my first first couldn't be far behind.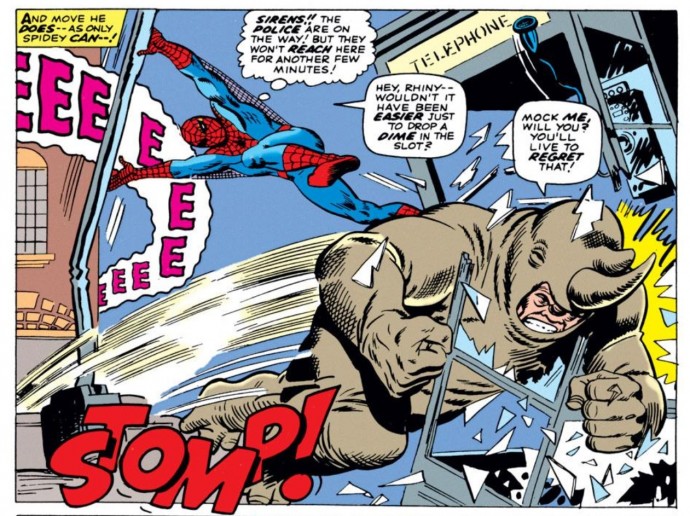 When I finally had primo position at the ASM box, I noticed that the comics were in sequential order, making my life easy. And just like that, I stumbled upon ASM #41, with a big guy in a dopey-looking rhino suit stampeding over Spider-Man on the cover. John Romita Sr.'s art, the guy who's artwork inspired me to buy so many more of those early Spidey issues. Perfection. And the price was fantastic. It was at least 50 percent less than what Wizard had projected. Of course the corners were rounded, the spine rolled and there was a big diagonal crease along the bottom right quadrant of the issue, but that wouldn't detract that much from the estimated near mint value of the book, right? Of course not.
I had a lot to learn about the valuation of comics. At that point, I had no understanding of the differing grades, and how each flaw dramatically reduced the value of a comic. Sure, I understood my first first wasn't worth the full value in Wizard, but that didn't stop me from going into school the next day and telling people I owned a comic that was worth more than $100. Because it was a first appearance of Rhino, you see. And there's nothing cooler than having the first appearance issue of a comic book.
All images from Amazing Spider-Man #41: Stan Lee, John Romita Sr. & Mickey Demeo